"The FLEX and Global Village programs were very influential in my career – they gave me persistence and drive to succeed, but, most importantly, networks and inspiration to be creative and open-minded."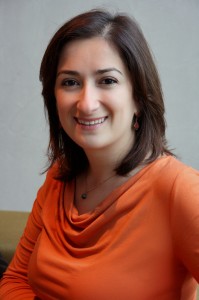 Teona Mikadze '97
Tbilisi, Georgia / St. Louis, MO
Education: Bachelor's and Master's degrees in International Economics from the Georgian Technical University; International MBA from IE Business School in Madrid
The Global Village for Future Leaders of Business and Industry at Lee Iacocca Institute, Lehigh University, is a five-week intensive summer program where 100 young people from all over the world develop their business and entrepreneurial skills, while sharing the values of diversity and multiculturalism.  Over the course of the program, villagers take courses, attend executive sessions, develop their own business projects, and take part in a variety of cultural events and excursions. FLEX alumni are eligible to apply for a full or partial scholarship to attend Global Village that is administered by American Councils in cooperation with the Iacocca Institute and funded by the U.S. Department of State.
First attending it as a participant in 2002, this summer Teona Mikadze returned to the Global Village as a guide and mentor. Over thirteen years she has kept in touch with many villagers and attended yearly reunions in different European cities. In her interview Teona compares her two Global Village experiences and tells Bradley Herald readers how the FLEX and Global Village programs have shaped her successful career in business.  
What are the main values that a participant takes from the Global Village? Global Village is a transformational experience that makes a person truly international – tolerant, open-minded and curious to learn. Through the encounters with new interesting people of different nationalities the world becomes your home. You celebrate its diversity, while at the same time realize how similar we, human beings, are. Even after so many years I still feel that the spirit of Global Village connects me with all other villagers.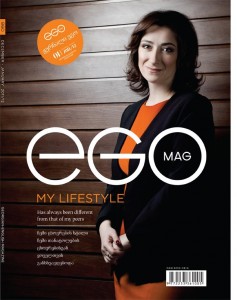 What is your current job? I am the founder and head of a business development advisory called Tara Consulting, which provides assistance and commercial advice to small and medium-size companies in Georgia. Together with my team I develop strategies for business growth and systems development and supervise their implementation. It's unique in its field as it helps companies to bridge a common gap between sales and marketing and therefore achieve better results.
Why did you decide to found your own consultancy? I founded Tara Consulting in June 2014.  By that time I already had 15 years of experience in large Georgian companies, mainly in commercial banking. I thought that with my all my contacts and expertise it was time to start my own consultancy dedicated to the development of smaller businesses. Having the freedom to choose my own projects and flexibility was what appealed to me most.
What achievements of Tara Consulting are you most proud of? The company is still young and the main results are yet to be observed, but it's rewarding to see your clients implement your recommendations and progress through that. Some of the highlights include managing strategic planning and rebranding projects for KSB Bank, a boutique bank operating in Georgia,  and leading business development for Dasta Records Management, the first professional records management company in the country. By the way, one of Dasta's founders is a FLEX alumnus – George Akhalkatsi '01. As for the previous projects, I am most proud of successfully managing the rebranding of Georgia's second largest bank TBC Bank and of developing a premium banking service for the Bank of Georgia, the nation's leading bank.
Are you planning to stay in the field of business consulting? At the moment we are still growing and I am fully dedicated to continuing with Tara Consulting for the foreseeable future. One other sector that has always interested me is tourism. Georgia has a huge potential in terms of the tourism industry and its development.  This may be something that I would be attracted to in the future.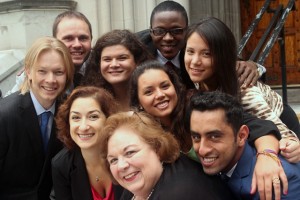 Are you in touch with many FLEX alumni? Definitely! Many of my best friends are FLEX alumni and for that I am grateful primarily to Ketevan Bochorishvili '98 who was the Alumni Coordinator when I returned from the FLEX program.   Keti created a strong alumni network which is still valued now, more than 15 years later, both on professional and personal levels.
The FLEX and Global Village programs were very influential in my career – they gave me persistence and drive to succeed, but, most importantly, networks and inspiration to be creative and open-minded.
Returning to Global Village, how different was it to be a guide and a mentor than a participant? It was different, very challenging and fulfilling at the same time. For me it was an opportunity to give back to the program by focusing on other villagers' experiences and making sure that they all had a chance to contribute ideas, discover their potential, and make friends.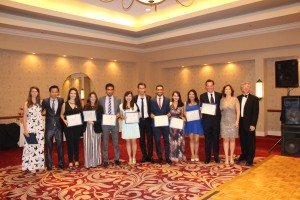 What aspects of your work did you enjoy most? Getting to know my villagers (I had 11 in my guide group and 7 in my project team), learning about their goals and aspirations and contributing to their professional and personal transformation was very rewarding.  For me this process didn't come to an end this summer. I am ready to be their guide, mentor, and friend for years to come. Next year is the 20th anniversary of the Global Village, which will be celebrated with a reunion cruise in the Caribbean. I will definitely be there no matter how much effort it takes and look forward to reuniting with some of my long-term Global Village friends. In the past I already took part in a number of reunions in different places in Europe and met up with many villagers during my travels in South-East Asia.
What would you like to say to FLEX alumni? Each experience in our life is valuable as we learn something from it.  Have courage to take on challenges and do not give up easily. Yet do not be absorbed by the routine – take the time to stop and appreciate little things, happy moments, and how blessed you are. Be grateful for your life and its opportunities!
Article compiled by Tatyana Movshevich