Over the last two years Dusan Ilic conducted a wide range of alumni projects – charity concerts, gender equality lectures, career workshops, and art installations. A strong believer in regional and global cooperation, he organized many events together with A-SMYLE and YES alumni coordinators in other Balkan countries. This September in the run up to his university graduation Dusan is leaving the position of Serbia Alumni Coordinator for the A-SMYLE program and plans to move into the field of corporate social responsibility. During the last month as Alumni Coordinator he shared his experiences, highlights, and aspirations with the merging A-SMYLE and FLEX communities.
Dusan Ilic '08
Belgrade, Serbia/Selah, Washington
Education: Degree in Political Science from The University of Belgrade (still enrolled)
Profile written by Tatyana Movshevich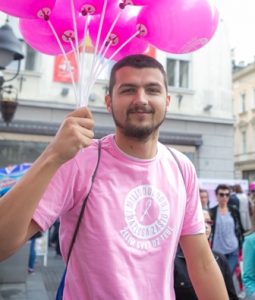 'The easiest activities to organize are usually big clean ups. They are a starting point for many alumni and they bring together large groups of volunteers,' says Dusan. In May and June this year an accumulated number of over 150 volunteers took part in two clean ups in Belgrade and Nis, approximately half of which were A-SMYLE alumni. One of the activists in Belgrade was the U.S. Ambassador to Serbia Michael D. Kirby.  Such events give volunteers a chance to rediscover areas in which they live and visit some abandoned spaces that they might otherwise avoid. During the May clean up, while walking through a deserted area, Dusan and his team of volunteers came across a man who got stuck in an open sewer and saved his life:  'I don't know how this man had fallen into a sewer in the first place, but it turned out that he was stuck there for days. We called the ambulance and other emergency services and got him out of there. He was very skinny and sick but lucky to still be alive,' shares Dusan.
Most events that Dusan has implemented have had an open-door policy and alumni often come with friends.  This way more people participate in A-SMYLE projects each time and the network of youth community developers grows.
Dusan also encourages alumni to conduct their own activities and mentors them through some of the more tricky logistics.  One such projects was a science fair, which was prepared by Dusan Bogicevic '11 in the Southern town of Leskovac in 2011. What at first started as a small project funded by an American Councils' grant later grew into a major city event. By its third year it consisted of 42 exhibitions and attracted over 7000 local and international visitors. The main idea behind the event was to show young people that science is a creative and fun activity accessible for everyone.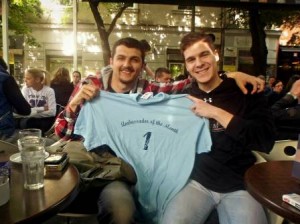 Since the organizer moved out of Leskovac for studies, the fair is currently put on hold. But Dusan is confident that such brilliant initiative needs to be revived and is now looking for a younger alumnus with relevant experience to take over. (If you are a U.S. Government alumnus/a living in Serbia and are interested to get involved, please email alumnisr@americancouncilssee.org).
One of the biggest challenges in being an alumni coordinator is developing activities that are interesting for both older and younger alumni. To mark 10-year anniversary of A-SMYLE program and to bring older alumni back into the community Dusan is working on another ambitious project – publication of a special A-SMYLE yearbook featuring all Serbian and Montenegrin alumni.  This 10-year yearbook will have paper and digital versions and include A-SMYLE alumni sharing their exchange and alumni experiences.
Strengthening regional cooperation through American Councils work is Dusan's key strategy. 'Our main issue in the Balkans is that people judge before they meet. They see your nationality, religion, name, and only afterwards they see your personality. Having an American exchange experience in common, it's much easier for alumni to understand each other and tell members of their communities that we are, after all, not that different'.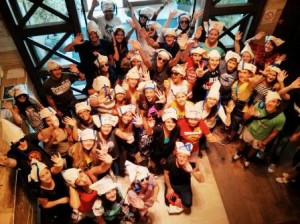 Meeting people from different cultures was crucial for Dusan himself. Before the program he had planned on becoming an engineer, but changed his mind during his A-SMYLE year in the U.S.: 'I decided that what I was really interested in was social studies. Had I become an engineer, my life could've been a lot simpler as I'd be earning a lot more money, but I would've been miserable for the rest of my life'.
Dusan's aspiration is to build a career in the field of corporate social responsibility the first step towards which will be graduating with a degree in Political Science this autumn. Initially he was supposed to finish university two years ago but had to pause his studies when his was diagnosed with cancer.  He has since defeated the disease and is now focusing on his future.
'You went to the U.S. purely because of your efforts and dedication. With this mindset and hard work great things can be achieved. Be very persistent in your goals and defend those ideas that you consider to be worth fighting for,' Dusan encourages A-SMYLE and FLEX alumni.