Arslan Karagulov '05
Kant, Kyrgyzstan / Keokuk, Iowa
Education: Bachelor's degree (Summa Cum Laude) in Business Administration from American University of Central Asia (AUCA)
Article written by Tatyana Movshevich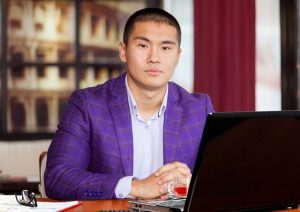 When Arslan found out that he hadn't been selected as a FLEX finalist he decided to spend his pocket money on a self-study English language book and a set of tapes. Over the next year he mastered his language skills, participated in the rounds of the FLEX program again and a few months later was on a plane to the U.S.  His efforts were worth the final goal as his FLEX year turned out to be a greatly inspiring time.
'I was amazed how open-minded and motivated my American peers were.  Before the FLEX program I wasn't into exploring new things, but while I was in Iowa I decided to get involved in social activities and events at my American high school. During my FLEX year I also saw how a free market economy worked in practice and became interested in business and marketing,' says Arslan.
Fast forward a few years and you'll find Arslan leading the marketing team in one of Kyrgyzstan's top twenty companies Abdysh-Ata. Situated 12 miles east of Bishkek, Abdysh-Ata is famous for producing the most popular beer products in the country.  Over the last few years, Zhivoe Pivo, one of Abdysh-Ata's most famous brands, has grown from a little-known product into the leader in the mid price segment overtaking all the foreign beer giants from Russia and Kazakhstan is.  This success is largely due to a new marketing strategy developed by Arslan himself.  The strategy is creative but simple: Zhivoe Pivo shadows the country's transition period by mixing its contrasting influences – the Soviet past and the current Westernization.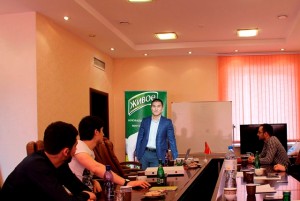 'Zhivoe tastes like a classic Soviet beer that many here feel nostalgic about but at the same time it has a new flavor typical of many European and American brands. In order to produce it some ingredients have been imported from Europe and Russia. However, unlike many European or Russian beers, Zhivoe is non-pasteurized, meaning it can't keep for long, but is also much better for you,' Arslan points out.
Despite the obvious advantages, it took some time to convince customers to try it: 'Many were suspicious of its short life span feeling more comfortable with foreign products that could stay in the fridge for generations'.
Just like the beer that he markets, Arslan himself reflects a mixture of American and Kyrgyz cultural influences, which despite playing a crucial part in his success occasionally creates challenges: 'I grew up here and it was quite easy for me to fit in. But as a pro-Western man with a progressive mindset, I often feel like I am in constant opposition to the old ways of doing things.  When I first joined the company, we had about seven or eight different types of the 'Nashe Pivo' brand, meaning that the success of few brought death to all the others and disrupted the entire production line. Naturally, my immediate suggestion was to choose the most popular products and get rid of the rest, but many of my colleagues were scared of such drastic measures. Eventually we did it and it has paid off.'
At the moment Arslan is also working on introducing new non-alcoholic beers and soft drinks to cater to those who no longer drink for personal health and religious regions.  After the collapse of the USSR the number of people converting to Islam in Kyrgyzstan has been rising steadily. 'Some think that we shouldn't be producing alcoholic products at all, but we aren't pushing them. Just the opposite – we would like to make sure that there is a variety of drinks to choose from for everyone,' he says.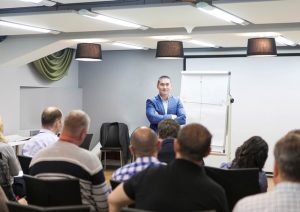 Arslan joined the company shortly after graduating from AUCA.  By that time he had already gained valuable career-related experience serving as head of the university's business clinic and working in a number of positions, including business advisor, interpreter, and tutor. He also won two consecutive Asia Universal Bank competitions for business students and spent his monetary awards on a washing machine and a fridge for his mother.
After the working hours are over Arslan is busy with his own growing business. Over the last four years he has been developing sports infrastructure on what was previously just a patch of urban wasteland. Covered with artificial grass imported from China, the space is now a comfortable soccer field which can be rented on an hourly basis. It is also a sports club for 200 local children that are trained by a professional coach. 'I decided to pay for the club because the government doesn't have money for improving sports facilities in schools and in the evening teenagers don't have anything to do,' he shares.
Besides funding problems, schools in Kyrgyzstan suffer from a lack of well-qualified teachers which, according to Arslan, is the root of many other societal issues. 'Most Soviet teachers have retired while many young teachers have fake diplomas, which were obtained with bribes. Even college graduates that join our company often lack basic education and expect to be micromanaged. I try to teach them how to work on a long-term goal on their own and progress through self-education,' says Arslan.
He believes that self-development is crucial for any form of success. During his university years he independently learned French and successfully passed the DALF (Diploma in Advanced French Language Studies) examination entitling him to study in a French university. Nowadays, no matter how busy his life gets, Arslan tries to spend at least an hour a day reading.
Trying to keep up with the ever changing market industry is another important aspect of his routine. 'Marketing always keeps you on your toes. Not even ten years ago social media was something only few people knew about and now it's a global phenomenon. Marketing takes hold of all different innovations and uses them as a medium of communication with a customer. I can't wait to see what new means of communication will be introduced in the future,' Arslan says.