Nurgul Irisova '13 (Kadamjai, Kyrgyzstan) Event Location: Kadamjai, Kyrgyzstan $243 FLEX Alumni Grant Funding $258 cost share from: secondary school № 17, local and regional administration, American University of Central Asia, youth organization 'Nur Elet'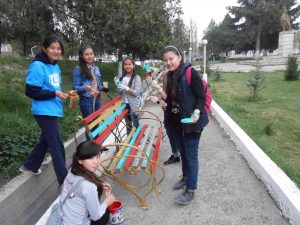 On April 17-19 FLEX alumnae and sisters Nurgul and Nazgul Irisovas promoted youth activism by introducing 73 students from three Kadamjai schools to community service and the basics of project management and fundraising.
A three-day workshop titled 'We are the Future of Kadamjai' started with a discussion about the importance of writing a good proposal, understanding the needs of your community and volunteering. To keep the participants energized, it was interspersed with games and competitions with prizes.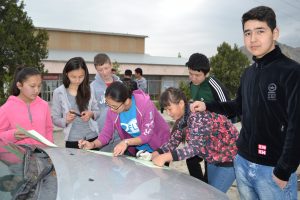 In the afternoon students were split into five groups and asked to create their own project as well as develop ways to implement it. Once the ideas were rolling, they practiced fundraising and looked for project partners in other teams. 'It was a great opportunity to use their new skills by working on something they came up with themselves,' says Nurgul Irisova.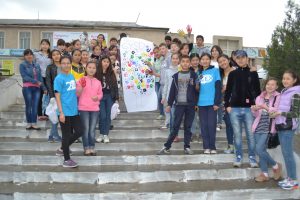 The second day was dedicated entirely to community service with a focus on making Kadamjai a nicer place to live. Throughout the course of the day students cleaned up three recreational areas of the town, painted 20 benches in bright colours, planted trees and scrubbed off old advertisements.  On the third and final day of the workshop a mini sport competition was organized followed by a closing ceremony during which participants exchanged their impressions and were awarded certificates.
By the end of the project students were so inspired that decided to set up more joint community actions in the future. Their first one will be a training promoting road safety among elementary and middle school students.