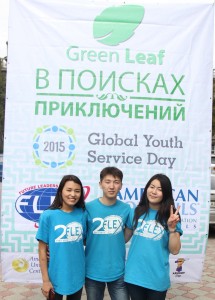 Kanat Osmonov '14 (Bishkek, Kyrgyzstan) Event Location: Bishkek $350 FLEX GYSD Grant Funding $480 cost share from: municipal organization 'Tazalyk', FLEX alumni volunteers   
Kanat Osmonov's project focused on raising awareness about the need to preserve parks and monuments situated in them through an extensive clean-up. In order to have a wider outreach he invited six other FLEX alumni of 2014: together they promoted the event titled 'Green Leaf' in two local schools, an orphanage and a college.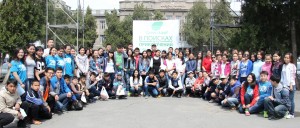 On April 18th 80 young volunteers met the FLEX alumni team in Dubovyi Park who had brought the necessary cleaning items and set up activities in advance. The action started with a scavenger hunt consisting of various ecological, intellectual and sport tasks. While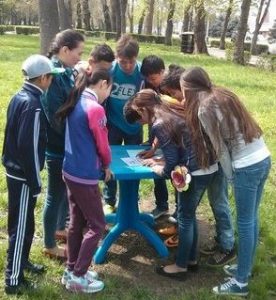 looking for hidden items and solving puzzles students had a chance to explore the park grounds.  This exciting start motivated volunteers to do their best in cleaning the green space in teams and to learn about the park's cultural objects.
'Green Leaf' inspired all the participants to organize similar events in the future. It also made an impact on the community as it highlighted the importance of joint clean-ups and other actions and the difference that they make.