Bermet Nurbekova '14 (Kara-Balta, Kyrgyzstan) Event Location: Kara-Balta, Kyrgyzstan $44 FLEX Alumni Grant Funding $66 cost share from: School #6 in Kara-Balta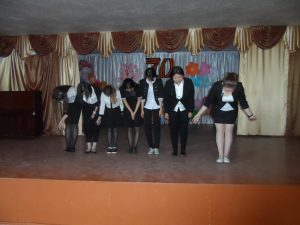 The goal of Bermet Nurbekova's project was to give 60 school students an opportunity to develop their skills in acting and speaking by setting up a theater club.  On April 17, Bermet Nurbekova '14 and Begaiym Akylbekova '14 conducted an introductory workshop entitled Rights and Rules in Society.  The event started with a presentation about the importance of human rights led by a history teacher  from School #6 and was followed by skits and other short performances made up by students on the topics. Despite having to improvise on stage students weren't in the least discouraged and many turned out to be excellent actors and speakers.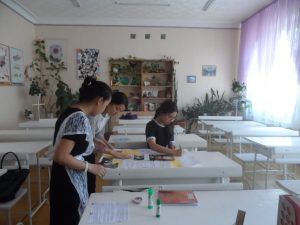 After a coffee-break the workshop continued with acting games during which students learned more about the art of public speaking and special techniques to develop it.
Everyone enjoyed the event and it was decided to carry on with theater workshops on a regular basis conducting them every other Friday afternoon at the school. It also inspired students to do something different from their everyday routine and helped them to realize what talents and skills they already had.