Gulnaza Khalmanbetova '13 (Bishkek, Kyrgyzstan) Event Location: Osh, Talas and Bishkek, Kyrgyzstan $356 FLEX Alumni Grant Funding $488 cost share from: American Corner in Osh, Language School Move Forward, the American University of Central Asia, Association of Social Entrepreneurs in Kyrgyzstan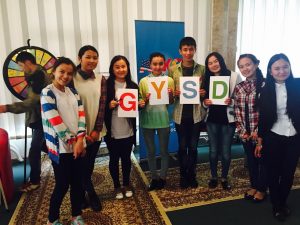 There is no better way to learn about volunteering than trying it out yourself.  That's how Gulnaza Khalmanbetova '13 and Asel Matieva '13 came up with an idea of establishing a movement of young volunteers called V Club in three areas of Kyrgyzstan – Talas, Osh and Bishkek.  Over the course of January and February they trained schools students on techniques for fundraising and implementing community projects after which 120 teenagers aged 14-17 had a chance to use their newly gained skills by preparing independent activities.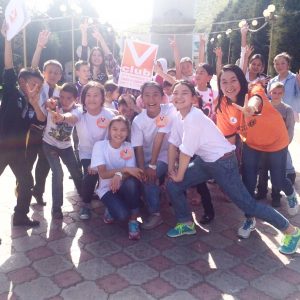 Based on their original ideas and under the guidance of the FLEX alumni mentors, students conducted 19 projects with different target groups, topics, and duration. In Osh a series of activities for children from the local orphanages Lotos and Boorukerdik was prepared. Some examples include Kyrgyz grammar and finger drawing lessons and a trip to the cinema. Students also visited elderly veterans and helped with their garden and housework.
In Talas volunteers ran trainings for students from primary and middle schools with themes ranging from the importance of reading to health and hygiene. They also got together for a big clean up in the main town park and visited children support center Tenir Koldo.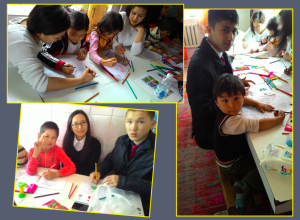 Since the toll of road casualties is very high in Kyrgyzstan, special emphasis was placed on promoting road safety and pedestrian rights. In Talas children learnt about the Highway Code through interactive games while in Bishkek a major flashmob involving over 500 activists took place. Organized together with a student charity Unity Fund, the flashmob with a title 'Let a Pedestrian Pass' aimed to encourage mutual respect between pedestrians and drivers and to decrease the number of road accidents in the capital.  The march through the city which was led by an activist dressed in a zebra costume attracted a lot of attention and was covered in the media.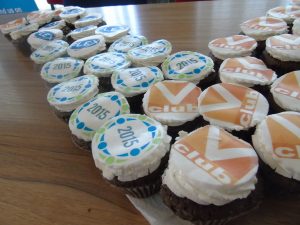 V Club was a great inspiration for many school students who are now planning to continue their community service through regular activities with the support of the FLEX alumni. The movement wouldn't be possible without the help of partners that provided conference rooms and covered travel cost between Bishkek and Osh.