"My FLEX year and the alumni program influenced my career in the greatest possible way."
Lana Chkhartishvili '04
Tbilisi, Georgia/ Buda, Texas
Education: BA in Law from the Georgian Technical University, LLM from the Georgian Institute for Public Affairs (GIPA)
 Profile written by Tatyana Movshevich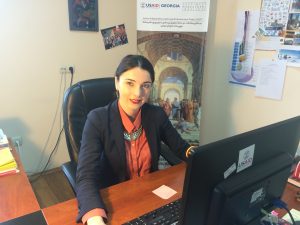 Where do you work? I work in a non-profit organization, the East-West Management Institute Inc. (EWMI) on a project called the Judicial Independence and Legal Empowerment Project (JILEP). It is a four-year USAID initiative that is structured around four components: I – strengthening judicial independence; II – strengthening the institutional capacity of legal professional associations; III – improving the quality of legal education, and; IV – developing commercial law and improving commercial law related practice. I am involved in component III – improving the quality of legal education in Georgia.
What are your responsibilities? In working to improve the quality of legal education in Georgia my primary responsibility is to coordinate the communication between Georgian law schools and international experts in terms of developing modern teaching methodology in legal studies. The scope of our work is large as we communicate with almost all law schools in all the regions.  Over 50% of all current Georgian law students have participated in JILEP's projects and competitions.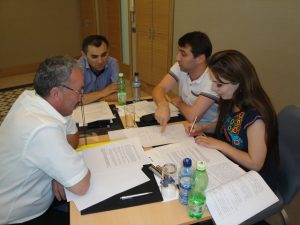 Could you share some results?  The most important result is the improvement in the methodology of legal studies.  Professors use more interactive ways of teaching, including moot courts, jury trials, client counseling competitions, role plays, and other simulation techniques. The overall quality of curriculum material and the level of teaching is higher at many universities. JILEP has also supplemented university libraries with new books focusing on the best legal practices from all over the world. All participating law school libraries share the materials with each other so that students from all regions can access these resources. This has resulted in an improved level of legal writing and practical knowledge for law students.
And later on these students will influence the development of the legal system in Georgia?  Absolutely! These students will later be employed in government, NGO, and private sectors focusing on local and national levels of the legal system in Georgia.  These are the future stakeholders that will promote legislative changes. If these people have a solid knowledge of law and its international practices, they will be able to create a very positive impact on Georgia's legal system.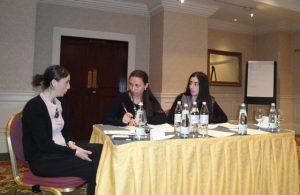 Do you monitor the changes brought by the graduates of law schools to the legal system? Monitoring is not exactly the right word. We are in constant touch with many graduates and invite them to be guest speakers and lead panel discussions at our conferences. We also collect their feedback on what could be implemented in the legal education system in our country. Involving all stakeholders in the program creates a much wider outreach.
What are your plans after the program is finished? Currently we are applying for another grant that would allow us to continue our work in legal education.  The most important thing is that the development of the legal education system in Georgia carries on. I will also proceed with writing my PhD thesis on responsible business conduct at ILIA State University, while teaching corporate social responsibility and self-branding to Bachelor and Master's students in English and Georgian. It will be a busy year!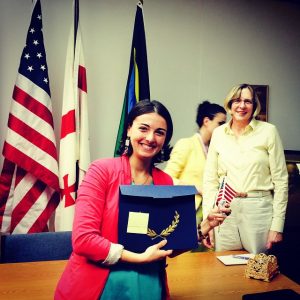 How did FLEX influence your career?  My FLEX year and the alumni program influenced my career in the greatest possible way. It was during my American year that I became interested in social change, and was introduced to the idea of volunteering. I received the U.S. President's Volunteer Service Award in 2004. When I graduated from university I worked for the OSCE/ODIHR mission to Georgia, American Councils on the Legislative Exchange and Practice Program (LEAP) and FLEX, and the Caucasus Research Resource Center before eventually moving into the field of justice.
FLEX doesn't only introduce teenagers to American culture, it allows them to make friends from all over the world, particularly from the former Soviet Union, thus indirectly improving the geopolitical situation in the region. I think it is a great pity that the FLEX program has been stopped in Russia since positive international experience at a young age is crucial for the future of any country.
What is your message to FLEX alumni? Don't lose hold of each other as we are all a big FLEX family.  Try to organize joint projects because your combined expertise and experiences can bring great results.