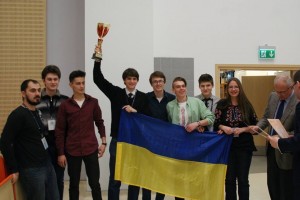 Roman Vydro '10 (Kharkiv, Ukraine/Westlake, OH) together with his team consisting of students in the Department of Physics at the V. N. Karazin Kharkiv National University in Ukraine were named the winning team at the 7th International Student Tournament of Physics at Warsaw University in Poland on April 7-10.
The tournament brought together eleven teams from universities from Ukraine, France, Denmark, Russia, Singapore, the United Kingdom, Sweden, Poland, China, Iran, and Switzerland. Roman and his team were the two-time winners of the all-Ukraine tournament.  In Poland, the team from Ukraine won all eight preliminary competitions the first two days at the qualification rounds and then swept the competitions by locking in the win at the finals.
Congratulations to Roman and his team!