Jennet Gurbanmammedova '10
Balkanabat, Turkmenistan / Alexandria, VA
Education: KIMEP University in Almaty, Kazakhstan, Majoring in Finance, Minoring in Accounting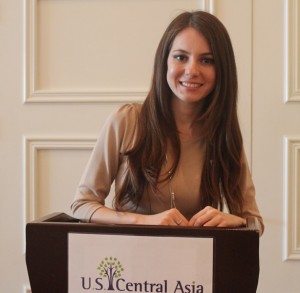 In August 2015 Jennet Gurbanmammedova '10 will travel to Washington DC to participate in a 4-month internship as a graduate under the US-CAEF program. Established in 2007, the U.S.-Central Asia Education Foundation assists in developing Central Asian economies by providing educational opportunities through Enterprise Student Fellowships to exceptional students who would otherwise not have the financial means to acquire their business degree. The scholarships are offered for two leading universities in Central Asia – the American University of Central Asia in Bishkek, Kyrgyzstan and KIMEP University in Almaty, Kazakhstan. The internship which is called The International Capstone Program is administered by American Councils in partnership with The Washington Center.
'I am very proud to be a finalist of the International Capstone Program. This will be an amazing start to my career as a young graduate and will set me on the path towards my future. Through this internship I expect to gain experience in the workplace and explore aspects of the field of finance. Also, I hope to meet new people to foster future cooperation,' Jennet shares.
Jennet describes her FLEX year as 'the turning point in her life' as it opened up a world of new opportunities and friends for her as well as taught her to appreciate diversity and differences among people.  It was during her FLEX year that she first heard about the US-CAEF scholarship and decided to apply to KIMEP University.  'My host father found KIMEP for me as he was helping me in my search for possible scholarships for undergraduate programs. I was very lucky to have such an awesome family. Still, even five years later, I feel part of the Moench Household,' Jennet says.
Jennet is currently working as a Teaching Assistant in the Management Department of her university. There she assists her professor in conducting research in ethical leadership by conducting surveys and collecting data from various companies in Almaty.  The opportunity allows her to explore local companies and their corporate cultures.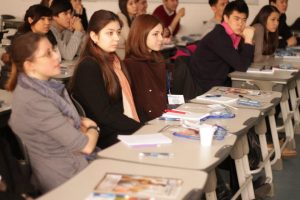 On November 23-25, Jennet had a unique chance to learn more about ethics in business at Business Today's 40th International Conference.   Business Today, an organization established by Princeton students, aims to bridge world-renowned business professionals with undergraduates.  This year's conference focused on the topic of 'Business and Morality' and was attended by 130 students from 20 different countries, Jennet being the sole representative from Turkmenistan at the event.  During the conference Jennet attended seminars and participated in discussions focused on corporate social responsibility, government regulation, transparency in business reports, and the relationship between economic and social goals. Jennet's participation in the conference was fully funded by the organizers.
'The conference itself was very inspiring.  I became motivated by the stories I heard.  One of the most important lessons during the conference was how to work under pressure. We participated in case study competitions organized by the Deloitte Consulting Group and worked together in international teams to find solutions for real-life business cases,' Jennet describes.
Being originally from Balkanabat, Turkmenistan, in the future Jennet plans to return back to her home country and search for a job in finance in the energy sector, but is anticipating professional challenges:  'There are significant differences in corporate cultures and the ways of doing business in the U.S. and in Turkmenistan and those differences can lead to misunderstandings. I'm dedicated to overcoming these issues and finding ways to solve the problems through effective communication among colleagues and partners'.
Jennet's message to FLEX alumni: 'Never hesitate and always keep moving forward. Use every opportunity to improve yourself and make the world around you better!'