Ia Dadunashvili '97
Tbilisi, Georgia / Laurel, Maryland
Education: BA and Master of Law from Georgian Technical University, Master of Law from Central European University, PhD from Georgian Technical University
Article written by Tatyana Movshevich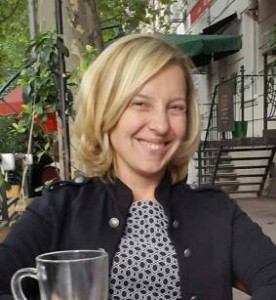 Ia Dadunashvili '97 certainly doesn't have to worry about a gap in her CV, she has been working in the sphere of international development and law without a break for the last 15 years. She got involved in the work of the NGO SARKE Information Agency immediately after her return from America and over the following years held positions in a number of large international organizations, such as the OSCE, Open Society Georgia, American Councils, and World Vision. 'Starting a career at the age of 17, I combined NGO work with university studies, which was quite rare in Georgia at the time. My life would have been much different had I not studied in the U.S. as a FLEX student. This experience influenced the way I think and the way I live. Through FLEX I became more responsible and eager to work,' Ia shares.
Ia is now a Monitoring and Evaluation Officer for the International Labour Organisation (ILO), a UN specialized agency, where she is overseeing a three-year project (from 2014 onward) that is funded by the U.S. Department of Labor and is aimed at enforcing labor legislation in Georgia.  'The protection of labor rights is one of the most acute current concerns in Georgia. In 2013 several new amendments were added to the labor code in Georgia; however the law enforcement mechanism has not been developed since. We hope that through the project I oversee, the inspection of labor legislation will be adopted and the occupational health and safety requirements (OHS) will be enforced. In order to do that we are now training judges on the national labor laws and are providing support to trade unions, particularly the Georgian Trade Union Confederation,' Ia says.
The project only started recently, yet Ia and her team have already achieved some impressive results: 'We have supported the Ministry of Labor, Health, and Social Affairs in drafting bills on labor inspection and the OHS, which will be presented to the Georgian parliament in the near future. Also the labor mediators that we trained have already successfully resolved one dispute and are now in the process of settling two more'.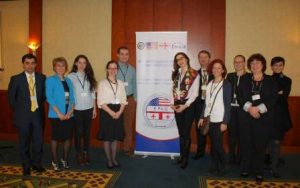 Besides ILO work, Ia was recently elected to the board of the U.S. Government Exchange Program Alumni Association of Georgia (EPAG), an organization that serves as a platform for alumni cooperation and networking with an aim to promote and sustain civil society in the country. It originally started as the Muskie Alumni Association of Georgia (MAAG) in 2004, but in 2014 the MAAG Board decided to include all the U.S. Government-sponsored programs. There are currently 300 members at EPAG, but the organization hopes to welcome many more in the coming year. EPAG board members are working to seamlessly transition to an all-alumni organization, search for funding, and plan future alumni activities and trainings. Among the proposed events are an alumni job fair, leadership trainings, charity events for local orphanages, and book translations.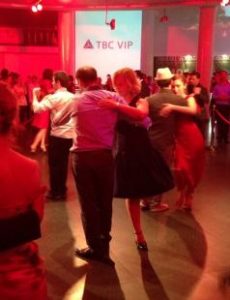 Despite being really busy, Ia has not hung up her dancing shoes. In fact she uses them 2-3 times a week during Milongas or dancing nights in the Argentinian Social Tango club.  'I haven't done much dancing in the past but now I would never miss a Milonga.  Ia's advice to FLEX alumni might be partially inspired by her hobby: 'Be as open to new knowledge and experience as possible. Try to learn from the best practices, but don't hesitate to share your own as well'.