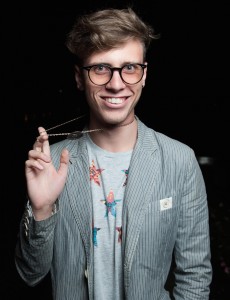 FLEX Alumni staff interviewed Oleksandr Huzenko '10 about his work at the Ukraine Crisis Media Centre and his aspirations for the future.
Oleksandr Huzenko '10
Kremenchuk, Ukraine / Cannon Falls, Minnesota
Education: Journalism at Sumy State University

What is your current job? I am the head of the visual communication team at the Ukraine Crisis Media Centre which is the largest media platform covering the crisis in Ukraine. It was established in March 2014 and has since become the main point of interaction between experts, journalists, government officials and activists. At the UCMC I coordinate the process of creating infographics which are later distributed to over 2000 media outlets all over the world.
What is the most interesting part of your job? The most interesting part is that my job changes and develops with the crisis. As the situation evolves, new media goals appear together with the realization that there are plenty more things to learn. My work has allowed me to build new bridges and connect with a vast range of interesting people. It also gave me an opportunity to extend knowledge in different areas, such as current affairs, economy and government.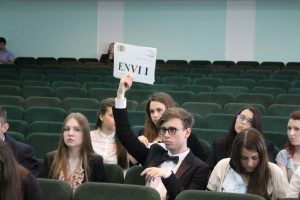 Is the UCMC a temporary or permanent project? At first we had no intention of starting a long-term project and thought that the UCMC would operate for only 2 or 3 months. However, the crisis continued and so we continued working on the project too. However, even when the external problems of Ukraine are solved, internal issues will remain, one of which is the inclusivity of the government and the way it interacts with civil society. As the UCMC is a product of civil society, its long-term goal is to develop deeper interaction with the government and maybe one day become an institution that will help the state communicate with its citizens and the media.
How did you start working in the media? My involvement in the media started in October 2013 when I took a job as a media analyst for CFC Consulting, one of the top business consulting companies in Ukraine. A couple of weeks into my new job the Euromaidan protests began and I decided to monitor the situation in Kyiv with my own eyes. I took photos, wrote articles, shared Facebook posts and, unexpectedly, received quite a lot of publicity. After the success of my first posts my colleagues suggested sharing the material with CNN, which I did. It resulted in the publication of my photo gallery on their website. Later I also gave a number of interviews to various media agencies. All of these experiences made me realize that I was interested in working in the media sector and that I needed to transform from an activist into a professional.
Why do you think your posts received so much publicity? Both foreign and national media outlets were covering the events of Euromaidan. The main advantage of national media was that they understood the context and the situation in Ukraine, however many Ukrainian journalists couldn't speak English and therefore couldn't share their stories with the international community. The foreign media, on the other hand, often possessed the necessary skills to make their stories heard, but they didn't understand all of the complexities of the conflict. Even though I was not a professional journalist, I possessed the necessary knowledge of the crisis and at the same time spoke English. I think that that's why people such as my foreign friends, who at that time lacked credible first-hand information about the situation, became interested in my posts.
What did you learn over the last year of working in the media?  Through my media work I understood a lot about myself and my potential. But in order to peruse my professional interests, I sacrificed my studies, which I am hoping to continue at a European University sometime in the future.  I started seeing the final goal as engaging and becoming an integral part of Ukrainian society.
What is that final goal? In the future I am hoping to move from creating content to managing the process.  At the moment I am considering working in the government as I'd like to be helpful to other people and contribute to the development of Ukraine. I see my media work as the pool of knowledge I will then be able to use to continue building civil society in my country. My way of thinking was greatly influenced by my FLEX experience.  It triggered many of my current interests and taught me not to be afraid of trying something new. Before my FLEX year I was very shy – I was even afraid of talking to my teachers, students who were elder and those who, I thought, were cooler than me. During my American year all of it changed and I came back to Ukraine feeling more confident and inspired. I have to say that playing American football was a big part of it!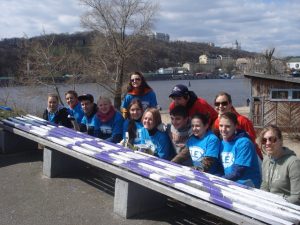 Are you in touch with the FLEX alumni community in Ukraine? I have a lot of FLEX friends. Moreover, a few of my colleagues are FLEX alumni and one of them is even a co-founder of the UCMC. In 2011, I participated in one of the most successful Ukrainian initiatives ever, the nation-wide clean up event 'Let's Do It Ukraine,' organized by FLEX alumni and partner organizations.   Let's Do It Ukraine brought together over 21,000 community members to clean up their communities, recycle plastic and glass, and plant over 1000 trees during Global Youth Service Day weekend.  The activity was largely supported by local authorities, businesses, schools and universities.
What is your message to other FLEX alumni? The most important thing to keep in mind when you return from the U.S. is that there is a lot more to explore and discover. All these discoveries will set up new challenges and by taking these on you will understand your potential more clearly. Don't be afraid to try to accomplish new goals.