Bermet Tursunkulova '94
Bishkek, Kyrgyzstan / Frederick, MD
Education: Bachelor of Arts in International Relations and International Law from International University of Kyrgyzstan (1998), Master of Arts in International Relations and European Studies from Central European University (1999), PhD in Political Science from Kyrgyz-Russian Slavonic University (2006)
Profile written by Tatyana Movshevich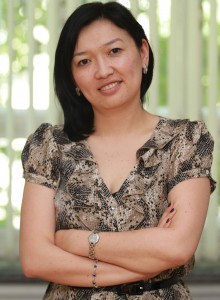 Bermet works as Vice President for Academic Affairs for the American University of Central Asia (AUCA). It is a challenging job, but Bermet enjoys it. She is responsible for the academic side of the university – ensuring the smooth flow of the academic process and providing support to libraries, research centers and IT. In her opinion, the most exciting aspect of her work is seeing the final product – the annual graduation of her students. In order to be admitted to the university, each applicant needs to submit the result of their national testing as well as successfully pass English and Math exams. Students are eligible to apply for either need- or merit-based scholarships with 90% of admitted students applying for these scholarships annually.
'I often think how lucky I am having this job. Meeting interesting people, such as academics and motivated students, and also being able to conduct my own research and write articles – these are the things that I find very inspirational,'- Bermet shares.
Prior to her work at the American University Bermet worked for the Academic Fellowship Program which is one of the programs of the Open Society Foundations that supports young scholars working in universities.
Bermet belongs to the first generation of FLEX alumni and underlines that there is a big difference between those who went to study in the U.S. twenty years ago and teenagers nowadays.  'Life was completely different then. I always tell my students that many of us hadn't even tried Coca-Cola before going to America – it wasn't sold in Bishkek at that time. There was no internet then and we could only call our parents once a month. Through FLEX I became exposed to another culture and grew much stronger. I think that FLEX experience shaped my entire personality'.
Bermet is still in touch with her host family, especially her host sister, who spent her junior year in college living with Bermet and her family in Bishkek.
Bermet's scientific area of study is political science. At the moment together with other academics she is working on a project, which analyzes the new parliamentary system in the country. Kyrgyzstan is the only country in the region that recently switched from the presidential to parliamentary system of government. The aim of Bermet's research is to analyze the government's accountability to its people, political parties, and the civil society in general since the parliamentary elections in 2010.  Bermet hopes to publish the findings of her research at the beginning of next year.
Apart from her work for the AUCA, Bermet is also a leader of the Kyrgyz Chapter of the Alumni Association of Central European University (CEU). There she is involved in building a network of CEU alumni in Kyrgyzstan and coordinating the alumni donation campaign, which gathers money for a special alumni scholarship granted to outstanding applicants.
Despite really enjoying her current position, at the moment, Bermet is at the career crossroads: 'Originally I was going to stay in my current position for two years and then go back to teaching. I became involved in so many projects that it was difficult for me to leave.  Now I'm in my 6th year and am beginning to think about the next move, which could be either another academic institution or an international organization. At the moment I am trying to decide which path to follow'.
When talking about social issues, the system of secondary education in Kyrgyzstan particularly concerns Bermet: 'There aren't enough schools, materials, or teachers in the country. The previous generation of teachers has retired and the new specialists are not eager to go into teaching because the salaries are very low. It is also a question of whether the young professionals have received enough skills and knowledge which will allow them to teach children. There are a lot of problems with education here'.
Bermet is confident that FLEX alumni can make a difference in their communities: 'Your personalities are different now. You are more interesting and strong. You can bring the change, which you would like to see in your countries'.