Anatoliy Slobodenyuk  '09
Lutsk, Ukraine / Yuma, AZ
Article written by Tatyana Movshevich '04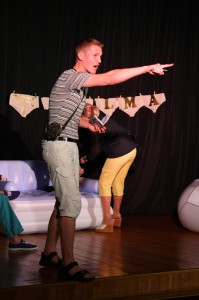 Over the last few years Anatoliy has had a range of different experiences – he has acted in a theatre, worked in the United Arab Emirates, taught English, and participated in various FLEX alumni activities. 'I feel a bit like Jim Carey's character from 'Yes Man' – I grab hold of every opportunity that presents itself in my life,' – he points out. – 'I've recently returned from Dubai where I worked in a hotel for half a year and am now re-establishing my life in Ukraine'.
At the moment Anatoliy is busy preparing  for a new play in Garmyder Theatre, which is coming out in October and for now remains a secret for the audience.  Anatoliy got involved in Garmyder's work two years ago when he was invited to come to a play rehearsal by a colleague in his language school.  To this day, it is still a central project in his life.  'In real life we can't rewind anything that happened, but theatre allows us to do that. This kind of magic is what attracts me to it most. Every time I play a scene, I create a slightly different mood with different posture, expressions, and intonations. The feeling theatre evokes in me can't be compared to anything else,' – says Anatoliy.
Garmyder is an amateur theatre, but actors take their work seriously. They meet for rehearsals three times a week for two and half hours. So far Anatoliy has taken part in four productions and participated in a number of international and Ukranian festivals including Zahid Festivals and the three-day festival Mandrivnyj Vishak in celebration of Garmyder's 10th anniversary. The title of the festival is translated into English as 'A Wandering Clothes Hanger' and comes from an expression that theatre starts from a hanger, often attributed to Stanislavsky. 'We decided to do something cool and international, something that had never happened in our city before and ended up creating Mandrivnyj Vishak. Ten theatres from Belarus, Russia, Georgia, and Ukraine joined the festival and during those three days the entire city transformed completely – plays were shown on various unusual stages, such as squares, parks, and in abandoned industrial buildings; places that previously never received any creative attention,' – shares Anatoliy.
Mandrivnyj Vishak turned out to be a great success in Lutsk. All of the productions were attended by community members of different ages and backgrounds, there were no empty seats left in the house!
Anatoliy's decision to get involved in a community project such as 'Garmyder' was partially inspired by his experience as a FLEX alumnus. 'When I returned home from America, I worked with a few FLEX alumni to organize an English club for children with visual disabilities, which lasted for a year.  During that time we gave English classes and organised arts and crafts and self-development workshops, which were led by local invited experts.  That's when I realised how lucky I was in terms of opportunities that I had received and decided to use my skills and experiences for the benefit of my community,' – says Anatoliy.
'There are few programs that make such a significant change in the world through transforming people's lives as FLEX. After a year spent in the U.S., I felt that I was a part of the American community and not a stranger. I miss being an exchange student. Life was so easy and simple back then. People were nice, the sun was shining brightly every day (I lived in Arizona, so it really was sunny everyday!) and time passed slowly,' – he adds.
Despite missing the simplicity of exchange student's life, Anatoliy has a big busy year ahead of him. While continuing his volunteer aspirations as an actor, he is also planning to work and earn money to support his future studies in Poland and will also continue to participate in FLEX alumni activities. His message to other FLEX alumni sums up his own experiences and aspirations really well: 'Have no regrets in life, because the best decision is the one made by you!'.