Catalina Cucu'13 (Chisinau, Moldova/ Keota, IA)
Project Location: Chisinau, Moldova
$1100 in 2014 FLEX Alumni Grant Program Funding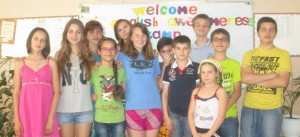 Summary:  Catalina Cucu '13 (Chisinau, Moldova/ Keota, IA) together with Nicu Gaibu '12 (Chisinau, Moldova / Colorado Springs, CO) organized the two-week English Awesomeness Camp for 15 teenage and at-risk students.  At the camp the participants took part in language instruction and other out-of-classroom learning experiences, beyond what is typically taught in Moldovan schools.  The classes included interactive learning activities, cultural games, arts and crafts activities and music lessons to teach the students about different aspect of American Culture, diversity, and tolerance. The project was split into the subtopics of American culture, volunteerism, professional development, and environment, taught by FLEX alumni and other program organizers.
The project was unique, because the students came from diverse backgrounds.  Two of the students were from at-risk families and learned English for the first time with their peers.  The camp focused on teaching the students of the importance of helping people in need and developing their community through youth-led project initiatives.  The participants volunteered throughout the camp, working together with the homeless community in Chisinau.  At the end of the camp, each participant has received a diploma and a book in English, which they are required to read before the start of the school year.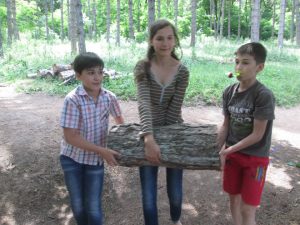 Project Results:
Project Coordinator Catalina Cucu '13 established the NGO Moldova Volunteer Club and established the English Awesomeness Camp as one of its core and ongoing project.
As a follow up activity of the camp, participants organized a visit to Casa Gavroche Orphanage where students conducted presentations about the English Awesomeness Camp and shared some of the skills that they learned during the camp with the children.  The students shared information with the children at the orphanage about how to apply for the English Awesomeness Camp next year.
More information about the English Awesomeness Camp can be found here: https://www.facebook.com/EACChisinau