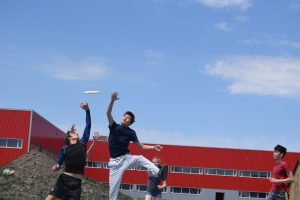 On June 17, exceptional City Representative Yana Veytsman '17 (Karaganda, Kazakhstan/Colorado Springs, CO) organized the very first Ultimate Frisbee tournament in Kazakhstan. This event soon became one of the largest sports events in her hometown of Karaganda in the last several years.
"Over 70 people were actively playing in 14 teams during the day, and 21 volunteers served to make that event perfect" shares Yana.
There were five essential steps to this successful FLEX Alumni Grant project and Yana kindly shared her insights from organizing the project:
Step 1: Ultimate Motivation
'I would say there have been two stages of developing the idea. First, when I played Ultimate Frisbee in the U.S., I realized I should somehow bring Ultimate to Kazakhstan and show it to my friends. Second, at the City Representative conference in Astana we discussed how to implement different project, and I realized that this project can be done in Karaganda with the support of FLEX Alumni community.'
Step 2: Ultimate Volunteers
"Throughout our journey, the volunteers and I realized that a great project isn't easy to organize; each group has to work like a well-oiled machine.
People in Karaganda, especially teenagers, don't pay attention to flyers and posts on Instagram, but everyone believes in great stories told with passion. My team has been able to tell such stories, because we have been extremely passionate about what we have been doing.'
Ultimate Volunteers tirelessly gave presentations to students at the EducationUSA office, at the American Corner in Karaganda, local schools and universities in three towns and local places of worship.   The collaborative work also included inviting children from the Temirtau SOS Village to the event."
Step 3: Ultimate Hard Work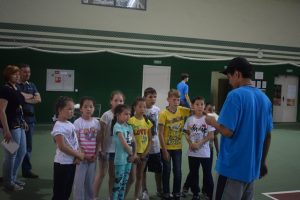 "Aside from active promotion of the event, every Sunday our trainers and volunteers would meet at the park to play Ultimate to learn rules and techniques. With the logistics team, we bought everything for the tournament: from water bottles to a First Aid kit. Then the only thing left to complete was the event itself. It was very hard to keep everything we needed in mind, but with the help of the head volunteers we did a nearly perfect job keeping everything done on time."
Step 4: Ultimate FLEXperience
"During my FLEX year I learned a lot about leadership, but only during this event did I realize what it truly means to be a leader. I realized that a real leader is a person who is full of energy and can inspire people; a leader is the one who truly cares about their team and makes sure everyone feels comfortable and productive.
I feel like one of the greatest gifts the FLEX program gave me was the ability to get out of my comfort zone. Whenever you get out of your comfort zone and talk to different people, you learn new things and gain a better view of the world around."
Step 5: Ultimate Winners
One of the participants, Sasha, shared: 'Before I played basketball, volleyball, and soccer, but Ultimate is much more fun! It is much easier for me to play and learn this game. I also love that this sport is built upon the Spirit of the Game!' Ultimate Frisbee has no judges: the game is conducted and regulated by players, and it is always up to their honesty and sportsmanship to communicate with other players. This unique characteristic of Ultimate Frisbee is known as the "Spirit of the Game".
'Today's Ultimate Frisbee tournament was amazing! I had a really great time. This is a really competitive sport, everything was super great. I hope to visit Karaganda again soon,' says Joyce, an intern at the U.S. Embassy in Kazakhstan.
Volunteers prepared special gifts for the winners, Frisbee discs signed by U.S. Ambassador to Kazakhstan George Krol, local successful athletes, and popular bloggers.
Over the course of three months Yana worked with four generations of FLEX alumni who volunteered at the sports event of the year!  The alumni team included Tatyana Bon '17 (Shakhtisk, Kazakhstan/Red Lodge, MT), Alima Bazarbaeva '17 (Temirtau, Kazakhstan/St. George, UT), Darya Likhacheva '16 (Karaganda, Kazakhstan/Colorado Springs, CO), Alexander Demchenko '17 (Karaganda, Kazakhstan/Montgomery, AL), newly returned alumni Nurmukhamed Zhanibek '18 (Karaganda, Kazakhstan/Topeka, KS), Anel Abdykarimova '18 (Karaganda, Kazakhstan/Warren, MN), Zaure Nurlan '18 (Temirtau, Kazakstan/Wheatlan, MO), and Anastasia Bobrovskaya '18 (Shakhtinsk, Kazakhstan/Byron, MN),  FLEX finalists Salim Zhamanchinov, Tatyana Khramova and Valeriya Sotnikova also volunteered at the event. Additionally, a team of local volunteers assisted with the event too (and made everything awesome!)
Written by Aknur Berdigulova '14