Nana Aburjanidze '96
Poti, Georgia/Corinth, MS
Education: Master's Degree in International Economics from the Georgian Technical University and MBA from the University of Utah
Profile created by Tatyana Movshevich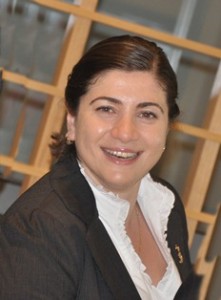 FLEX Importance: The timing of my FLEX program couldn't have been any better. Being an exchange student in America then (1995) was, in my opinion, much more special than today.  Nowadays teenagers in Georgia are very integrated into the global world, advanced in technology and not as different as we were 15-20 years ago. So when I went to the U.S. in 1995, it was a completely life-changing experience. A lot of children these days don't have a strong memory of the Cold War days, but my generation still remembers its final days and the collapse of the USSR very clearly. The realization that the U.S. was not an enemy but an amazing country with lots of wonderful people was very important. The other significant aspect was meeting other exchange students from around the world and building connections with them. Finally, when I came back to Georgia I found out that my English and IT skills were rare and in demand. This way my career started growing really fast and I achieved a lot in quite a short period of time. But this is not only my story – it is the story of many other FLEX alumni of my generation. The FLEX program has played a key role in our future progress.
FLEX Values: It's been almost twenty years since I went to the U.S. as a FLEX student, but I'm still in touch with some of my best high school friends there.  I've also been back many times since. Sadly, I've lost both of my host parents by now, and I still bitterly regret not being able to attend their funerals. That was probably the time when I wished to be back in America most. But I keep in touch with my host sisters and their families. Over the years they all became my one big extended family. I'm very blessed to have them.
FLEX Lessons: At the end of the '90s we had an amazing alumni coordinator Ketevan (Keti) Bochorishvili '98 who built one of the most bonded alumni communities in possibly the entire FLEX alumni history. In those years I took part in many alumni activities – tree planting, charity events, conferences, and even travelling. We've done so much together and I made so many friends. I think I still know almost every FLEX alumnus in Georgia up to the years 2003-2004. I didn't quite understand the meaning of the network that we had created when I was that young, but I appreciated it later on in life, because we all greatly support each other both in personal and professional matters.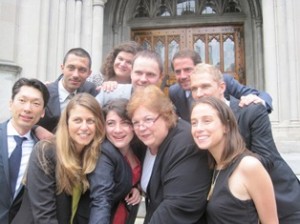 Current Work: I am a mentor and guide at the Global Village Program for Future Leaders of Business and Industry at Lee Iacocca Institute, Lehigh University. Every summer for the last 18 years this program has brought together participants from all over the world and is dedicated to embracing diversity through business. This summer we have 89 villagers from 43 countries who go through very intense 5 weeks – they have courses, executive sessions, business trips to NY and DC, charitable events, culture nights, and other kinds of activities on a daily basis. We are there to guide and mentor them so the villagers can make a great use of the program and successfully work on real business projects with challenging goals and tasks. It's a very demanding and at times tiring "job", but there is nothing like this 'village' in the world; throughout the program people completely revaluate and challenge their former perceptions and open their minds to many new prospects and opportunities. I am responsible for providing support to 10 villagers in my guide group and for mentoring a business project for six other villagers. This project is for the Greek Children's Clothing Company that wants to enter the U.S. market.
Current Highlights: Participating in Global Village has been very special. It opened up my heart to many people from around the world. Its most important aspect for me is the people I've met here. I first heard about the Global Village in 2002 from another FLEX alumna – Teona Mikadze '97. She just came back from this program and wouldn't stop talking about it. Her enthusiasm about it was so contagious, that I started thinking: 'I need to go to this Global Village myself". So I applied, passed the selection process and received funding from the U.S. State Department. Since 2004, the Bureau of Educational and Cultural Affairs has funded full and partial scholarships for FLEX, and more recently for YES and A-SMYLE alumni to participate in the program.  Then in 2008-2010 I was pursuing my Master's Degree through the Muskie program in the U.S. and in summer 2009 I took part in the Global Village again. This time I was a guide and it was a completely different, yet also amazing experience. When you are a villager, it is all about you and your own development. But when you are a guide, it is all, of course, about villagers. Since then I always wanted to come back and work at the Global Village again. This summer was a perfect time, as I have recently decided to take a career break and experience other things.
Past Highlights: Prior to that I was working in the advertisement sales industry with leading TV channels. I was first a deputy director for the largest TV sales house in Georgia, then I became a director of sales of the third largest TV channel in Georgia. The work was demanding but also extremely interesting – I enjoyed every minute of it.  I was heavily involved not only in advertising sales, but also in the decision-making process. I negotiated some important programming deals, which ultimately led to rapid growth of this channel's ratings. Together with the strategic team of executives we achieved some great successes: when I first started working at that channel the share of TV viewership was 2.3 percent and by the time I was leaving, just after one year, it reached 17 percent.  That is about 600-700 percent growth. I consider it one of my most important professional successes, which was only made possible because of my previous experience. I had been working with the data in the media industry for years before that and knew the market, its trends, volume, and main contracts, in detail. The TV industry is fascinating, but also very competitive. At some point I would probably consider going back but at the moment I am glad to have an opportunity to be involved in other projects.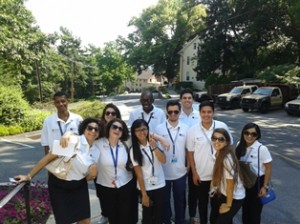 Current Concerns: One of the issues of greatest importance to me is the lack of recycling opportunities in Georgia. I would like to start a campaign about it at some point in the future. At the moment there are literally no ways to recycle in my country and it is important to change this situation.
Message to FLEX Alumni: We are all very ambitious and it is great. But there are other, greater things that are more important than our careers and professional growth – our families and people around us. That's why no matter how successful we are, we should never lose focus on this part of our lives and we should occasionally step aside and appreciate what we already have.
If you are interested in applying for Global Village 2015, keep your eye out for announcements in November 2014 and check the Global Village website at http://www.iacocca-lehigh.org/Iacocca/globalvillage/index.shtml