Yulia Sushkova '95 (Saransk, Russia/Naples, FL)
Project Location: Saransk, Russia
$1800 in 2013 FLEX Alumni Grant Program Funding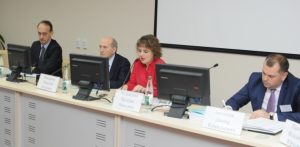 Summary: Yulia Sushkova '95, Professor, Chair of the International and European Law Department, and Dean of the Law Faculty of the Ogarev Mordovia State University, organized the teaching module World Trade Organization (WTO) Law in association with the legal studies academic curricula for the law department of Ogarev Mordovia State University in Russia. The course was taught in English and Russian and promoted improved understanding of the WTO legal basics used in Russia following the country's membership into the WTO in 2012.  The teaching module helped promote mutual understanding of international relations and economics to the students that study in rural areas. The critical role of this project was to raise the awareness about the functions of international organizations on different levels of civil and professional society and to increase interaction with public authorities in order to reach more effective integration. The module was taught to a group of 15 law students.
Upon the completion of the module, Yulia organized an international seminar entitled Russia's Membership in the WTO: Regional Experience and Perspectives of Legal Practice, which took place on the December 9-10, 2013 at Ogarev Mordovia State University in Saransk.  The Vice-minister of economics of the Republic of Morodvia A.V. Ivanov was among the honorary guests of the seminar, where participants discussed such important aspects of the World Trade Organization as ensuring anti-corruption and issues surrounding legal regulation of Russian law.  One hundred students attended the seminar and learned about the benefits of Russian membership in the WTO to society.
This project promoted deeper understanding of practical aspects of WTO law implementation in the Russian legal system and the role of civil society in its development.
Partner Organizations: Ministry of Economics of the Republic of Mordovia
Project Results:
Within the framework of the project, leaders together with participants established the Consultative Center of the WTO Law and prepared all of the necessary documentation for the Center, including the Statute of the Consultative Center as a foundation to the law department of Ogarev Mordovia State University. The center now operates as a separate office and provides legal consulting on a daily basis.
Professor Yu.N. Suskova together with a group of authors prepared the book Russian Federation in World Trade Organization: Regional Experience and Perspectives of Legal Practice. The book will be pushed out of the Ogarev Mordovia State University Publishing House and will be shared with the public and students.