El Campo
Aigerim Kushaiynova '11 (Bishkek, Kyrgyzstan)
Event Location:  Bishkek, Kyrgyzstan
$1425 in FLEX Alumni Grant Program Funding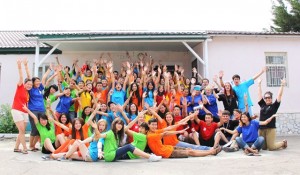 Summary: On July 17 – 28, organizers led by FLEX alumna Aigerim Kushainova '11 held the El Campo Leadership Camp at the International University of Central Asia for 65 high school students.   The project was created, developed, and administered by five FLEX alumni and 20 local volunteers.  Campers attended classes to develop their leadership, personal development, and life skills. Classes included leadership, team-building, communication, patriotism, project management, tolerance, and those dedicated to living a healthy lifestyle.
The camp also worked to unite youth from different regions of Kyrgyzstan, aiding in breaking prejudice and stereotypes.  Through the lessons, students learned to solve problems creatively. Students completed social projects at camp, taught them how to projects in their communities upon the completion of the camp.
More information about the project can be found here.