Olha Harbovska (Panchak) '03
Novyi Rozdil, Ukraine/Weiser, ID
Education: Lviv National Ivan Franko University, MA in Translation Studies and Contrastive Linguistics
Employment: Media Neighbourhood Eastern Europe Project Coordinator
Profile created by Tatyana Movshevich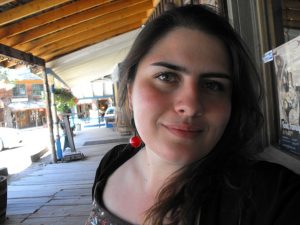 FLEX Lessons: FLEX has opened new horizons for me. I am originally from a small town in Western Ukraine where I did not have that many opportunities. Through the FLEX experience I had a chance to see the world differently, to understand that there are many exciting opportunities. What is even more important is that it gave me strength and belief in myself. I realized that I could deal with the issues that I was witnessing and which were troubling me. The most important skill that I gained while being in the US is public speaking. I was rather shy and afraid of speaking in public before. Meeting my peers who were more open and confident in the US, I understood that I could behave in the same way since everyone has a right to hold opinions. I even got one of the leading parts in a school play and was eagerly presenting my science projects in front of classmates.  In the community in which I was staying, no one judged you based on how you looked or what you wore. Everyone was an individual not trying to follow the trend. Being who I am and not who others want or expect me to be due to the common, collective belief is very important to me.
FLEX Values: While I was in university, I was actively involved in the FLEX Alumni Association. I wrote grant proposals and managed various social projects. Through this I gained invaluable experience that helped not only in my career, but gave me the opportunity to influence the lives of others. A lot of people who have participated in the trainings I organized or projects I initiated manage to find their paths in life and gain experience and skills that are crucial for their personal and professional development.
Current Job: I am a Media Neighbourhood Eastern Europe Project Coordinator. I joined the program in July 2012. Being a coordinator of the Media Neighbourhood project, I am mainly responsible for the program events in the EU Eastern Partnership countries by  being the first port of call for all the participants and by helping maintain and stimulate the network of journalists across the program countries. The project delivers journalism training and networking programs across 17 EU-neighbouring countries. This 3-year project aims to build the capacity of the media in the ENPI (European Neighbourhood and Partnership Instrument) region to effectively and professionally report to their respective audiences on key social, political, and economic issues enhancing good governance and accountability.
Current Highlights: The program works towards strengthening the professional capacity of journalists and helps to build a strong network. It is very rewarding to witness how participants of the Media Neighbourhood program from different countries cooperate together in order to produce unbiased and impartial news and investigations. Being a part of this program I have the remarkable opportunity to meet journalists from other countries, learn, visit countries, and enhance my worldview.
Current Concerns:  Indifference… In any country, society or nation there is nothing as destructive as indifference. For some it is always easy to say 'none of my business' but it might be their business tomorrow, in a month or in a year; it might be a great problem for their children or grandchildren. If there is an issue in society, everyone should try to solve it and bring change. People should not be indifferent, but proactive.
Message to FLEX students who currently study in the US: Dear FLEX students, this is a remarkable opportunity for you to become independent, confident, proactive; an opportunity to see different perspectives; an opportunity for your parents, siblings, grandparents and all people who care about you to be proud of your achievement. Do not be afraid to voice your concerns or opinions but at the same time do not forget to try to understand others and accept them the way they are.
Message to FLEX Alumni: "Believe in yourself and all that you are. Know that there is something inside you that is greater than any obstacle." Christian D. Larson
You were only 14 or 15 when you 'hopped on' a FLEX adventure. That was a significant achievement for you, your parents and friends. For many of you it was a turning point that strengthened your capacity and showed that you can achieve a lot by believing in your dream. There might be a lot of obstacles in your life that could discourage you. Please, do not give up and each time you see a stumbling block, recall your FLEX experience and reveal that great FLEX determination.