Nadezhda Abashina '11
Cheboksary, Russia/Staunton, IL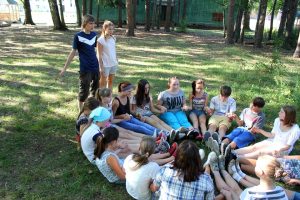 As a former FLEX city representative, I've participated in a lot of projects, but there will always be that one which can make me refuse to go to the seaside and sleep on the hardest bed ever. Every year the American-linguistic camp "Kostyor" gathers the best kids from all over Tatarstan, Russia, to teach them how to become even better.
If you come to "Kostyor" for the first time, you might not notice right away what is different about it. But once you hear one of the counselors yell "Line up!" and see all of the children make perfect (or not really perfect) lines, you start realizing that there's something in the air that makes everyone around smile wider, laugh louder and go a little faster to match the rhythm of one more camp song. The crowd includes people of different nationalities and backgrounds, but not a single person notices it here. In this camp all of them are equal no matter how old or how smart each of them is. Almost all teachers, counselors, and helpers here are FLEX alumni who leave behind their real lives and come here to fulfill all of their childhood dreams.
The variety of activities in the camp is limited by our creativity only and since that is endless, we don't have any problem creating the best time for every single person around. Every year we have Talent Shows where every kid shines so brightly that you can't stop thinking that there are much more possible things in the world then you have imagined. We also organize different sport events, such as Ropes Course and the Night's Watch. During the first part of the day children always have lessons, but not simply grammar or reading. Our teachers make huge efforts to create a new and exciting study program every year. In 2013 we had such lessons as "Motivational and Critical Thinking," "Special Types of Translation," "Creative Song Writing," and "Communicative Games." Moreover, we open club opportunities where everyone can choose to do something they like. For example, this year they could choose sports or drama, music or Latin, or even yoga. The working language in the camp is English.
During the shift we try to give children as much knowledge as we can, but fortunately or not, it is not really our main goal. First of all, we need to show them that the world is not as big and scary as it seems, we set examples of true friendship, we give them the feeling that this is their home and they would be welcome here no matter what.
The best present to us is when our children grow to become FLEX finalists, students of the best universities and just successful people. These kids, who surprise me every minute of the camp, are an inspiration to me. Every time when I see their shining eyes I know that if they are the future of this planet, then it is safe and I am definitely staying.
The FLEX Alumni team this summer included director Yuliana Amanova '03, Vladimir Emmer '07, 
Aida Ziganshina '07, 
Tamara Ivanova '08, Nailya Rakhmatullina '09, Adel Zabbarov '11, 
Nadezhda Abashina '11, 
Yuliya Aleksandrova '11, 
Dilyara Gafurova '13, Aleksandra Mayn '13, and Liliya Iskhakova '03.