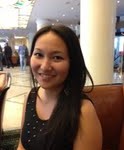 Saikal Nogoibaeva '09
Bishkek, Kyrgyzstan
U.S. City and State: Marysville, WA
Saikal Nogoibaeva has accomplished a lot since her FLEX year 2008-2009 in Marysville, WA. She graduated this May from American University Central Asia with a degree in International Comparative Politics. But when she describes the numerous prestigious internships and volunteer projects she created and managed to carry out in conjunction with her studies, you understand that this young woman is a powerhouse. She explains, it was in Washington state that I became an active citizen."
While in the U.S. on FLEX, Saikal joined a mentoring program to help elementary school pupils with reading, volunteered at the local food bank, became a huge fan of the YMCA, especially the youth club, where she made a lot of friends and did all kinds of volunteering. She was also lucky to take a high school semester course in leadership, which gave her both theoretical knowledge and practical event organizing skills. When she returned to Kyrgyzstan, she volunteered for FLEX. One of her projects, an environmentally focused Global Youth Service Day recycling project, set her on a path to promote environmentally awareness and responsible practices first at AUCA and then more widely within the capital city. She was an organizer of Green Week on campus and the "Art-out-of-Waste" and Battle of the Bins waste separation projects! Saikal has been involved in the plans to further the university's status as a "green campus" and is challenging the university community to make sure the new campus incorporates key concepts sustainable development into its plans.
Outside of AUCA, Saikal interned at the U.N. Regional Centre for Preventive Diplomacy in Central Asia (UNRCCA) for several months. Her internship supervisor was also her professor and thesis supervisor.
She was also competitively selected for the FLEX Exchanges to Interships program, and served as an intern in the Ministry of Youth for four months in 2012. Through that work she met the founder of the Foundation Public Organization of Youth Development and became cooperating with that organization. Through a Soros Youth Project she helped develop an "eco-bag" project through which disabled young people received training in social entrepreneurship and started a sewing project to make and sell cloth bags.
Saikal also worked on the design and planning of the 2012 FLEX Alumni grant project to support a youth camp that developed inter-ethnic tolerance in southern Kyrgyzstan.
Most recently Saikal was selected to represent Kyrgyzstan on the auditing commission of a new Youth CIS Countries Commonwealth that is focused on uniting youth.  She has also been invited to join a new innovative project of young Kyrgyz businessmen who are investing their own money to educate young people about entrepreneurship and leadership.
Saikal is also a contributor to the online publication GlobalVoices.