Dmitry Dudanov '09
Petrozavodsk, Russia/Austin, MN
The 85th Academy Awards will be broadcast live from the United States this Sunday, February 24.  Joe Wright's film Anna Karenina, which stars Keira Knightley and Jude Law, is up for four Oscars in the Cinematography, Costume Design, Music (Original Score) and Production Design categories.  While Anna Karenina may be interesting to FLEX alumni as a British-American adaptation of Leo Tolstoy's classic novel, FLEX alumni have another reason to take interest in the film: A fellow FLEX alumnus served as an interpreter to the movie crew while it was filming on Lake Oneg in northwest Russia last year!  Dmitry Dudanov '09 shares his story with us.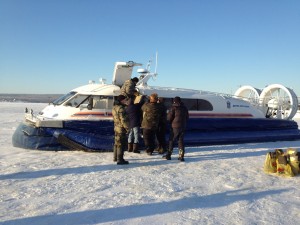 I worked as an interpreter on the shooting site of Joe Wright's film Anna Karenina on the Kizhi Island. I was offered the job by my friend Tatiana Rusanova, she also happens to be a 2007 FLEX alumna.  At that time she was an employee of the Onego Palace Hotel, which is in Petrozavodsk, where part of the Russian shooting crew stayed for a couple of weeks before going to Kizhi. At first she was supposed to be an interpreter, but then it was decided that a man would be better suited for this job.  The weather was extremely cold: The temperature on Kizhi dropped to about -40C during the night and -30C during the day, and pretty much all the filming was to be done out in these harsh conditions.
The whole crew, including both its Russian and British members, consisted of around 60 people. My job was to interpret for the Russian extras who did not speak English and vice-versa.  I was also providing some basic help for the British crew in the small hotel where we lived in, which was on another nearby island. Every day in the early morning we had to commute to Kizhi via the Coast Guard hovercraft, which undoubtedly was an amazing experience for everyone.
Every day was one of survival, especially for the foreigners who were not used to these kinds of low temperatures and lacked basic comforts like hot shower water.  There was not any in the hotel, since quite a bit of electricity would be needed to heat water for 50 people, and the power grid on this small island in the middle of nowhere was not powerful enough to do that.
All in all the crew only shot a few minutes of footage in 5 whole days, but that, I guess, is how movie-making works. The footage included the arrival of Kitty and Levin to his estate as well as views of the landscape.
Working with the Anna Karenina crew on Kizhi was a rewarding experience for me, and here I am not talking about some extra language practice. To be part of the incredible atmosphere of movie-making and to contribute to a project that would be enjoyed and admired by millions of people worldwide were great opportunities which I will never forget.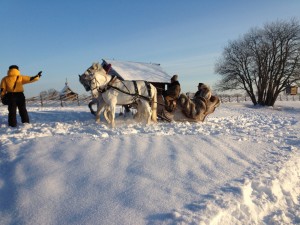 To learn more, Russian-speaking readers can check out the feature article Petrozavodsk published online last fall about Dmitry Dudanov's adventure on Kizhi.