Irina Vasilyeva '08
St Petersburg,Russia/Avon Lake, OH
Yekaterina Grin '10
St. Petersburg, Russia/York, PA
FLEX alumnae highlight the awesome times that they has had working as teaching assistants at FLEX Pre-departure Orientations (PDO).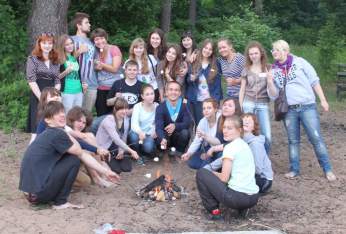 For every FLEXer the PDO becomes a highlight of their whole American experience. We are sure that every one of us goes back to those fun days from time to time wishing we could bring them back and live through it over again. Well, the time machine hasn't been invented yet. What can be offered to us is the opportunity to take those amazing PDO memories to a new level. Become a teaching assistant at FLEX pre-departure orientation: it definitely does the trick!
Having participated in quite a number of PDOs we can definitely say that this experience has changed our lives and helped us to acquire a lot of great skills, gain new knowledge and understanding of our cultures, and most importantly – find a lot of great friends.  The American and alumni teachers have built amazing relationships with our students, we treat them as our own children (although some of them are already 19 years old by now!)
We can definitely say that PDO time is the best part of the summer! Sharing your valuable FLEX experience, showing the students what America is all about, helping them broaden their horizons – that's what PDO is. Not better, not worse, just amazing! Take a chance to bring back your FLEX experience, your memories, all the fun times you had in the US!
Apply now – don't miss the amazing opportunity to become a part of the wonderful PDO crew!  To learn more about the Teaching Assistant position, please contact the FLEX Alumni Office at flexalumni@americancouncils.ru