Akmaral Arzybaeva '07
Tashkumyr, Kyrgyzstan/Needham, MA
I was a six-year old girl who would bring candies from home and sell them to classmates at school until my mother found out,  which resulted in having to stop my business. What speculation, hah! Moreover, I would make kids return the candy wrappers, make bracelets out of them, and sell them back!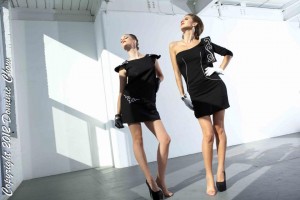 Everyday before going to bed I used to make a wish. I would wish my family to be healthy, happy and always together. Also I would make wishes that had less probability of coming true. For instance I wanted to have an older brother and a younger sister, and would write letters to my future, saying the things I have accomplished and writing about what I wanted to accomplish. Of course there were some useless notes, as well that ones that made no sense. Recently I found one of those letters, written when I was 14 years old.  It says: "Dear Akmaral, I hope you have long hair now; do not cut your hair (and there was a picture of me with self-cut very short, ugly hair).  Mom forces me to learn 20 words every day and I want to go to the United States when I finish this Russian-English dictionary."
I believe dreams come true and thoughts materialize if we make efforts and do our best. I consider myself a very happy and lucky person, because of the wonderful people I have in my life. When I was in high school a Peace Corps volunteer lived and worked in Kyrgyzstan. He was the perfect example of the brother I had always wanted to have. I thank him for teaching me English, giving his support and believing in my success even more than I did myself.   So I was able to improve my English and participate in FLEX Program.
I thank the FLEX Program for giving me the wonderful opportunity to spend an academic year in Boston, MA and live in a host family, which later influenced my life very much. Five years have passed; I am back to my host family. I guess it is very difficult for me to express and say in words how much I appreciate all the wonderful things they do for me and how thankful I am for having them in my life. My host father said to me once, "Akmaral, your problems are our problems; we are a family and need to stick to each other." We have our family jokes, care about each other and respect each other – that is one of the features that makes us a family and I love them very much. Unfortunately people don't always value what they have in their lives and regret it when it is too late. I have never been an angel; time is a perfect teacher that tells us what to do and what not to do. So I try to see and appreciate what I have now and be thankful for all that.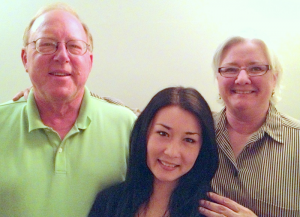 At the moment I study fashion design in Boston and recently signed an agreement with Haute House Design Studio. My first great experience in the United States this time around was my participation in PLITZS New York Fashion Week 2012 and the first collection is on sale already at http://thehautehouse.com/
My plan for 2013 is doing fashion shows in Washington DC, Miami, Chicago and Las Vegas. I try to work hard, because I know it is not only my motivation, but also there are people who believe in me, and disappointing their expectations would be no good. My dreams are big, I work hard…when deadlines approach. I can be lazy sometimes, but that is not good either!
In every success I have had my families and friends, who have had their influence and all alone I would not be able to achieve things. I am not good at giving suggestions, but all I can say is probably strive for the better and treat people the way you would like to be treated.
Once again, I thank my two families, friends, FLEX Program and all the people I have in my life for being a part of my life.
Sincerely,
Akmaral