Izat Osmonov '09
Kant, Kyrgyzstan/Hobe Sound, FL
During my year abroad as a FLEX exchange student in South Florida in 2008-2009, I blogged on the experiences of a teenager from Kyrgyzstan and my distinctly "Central Asian" take on American life: South Fork High School , Disney World and image of Kyrgyzstan abroad.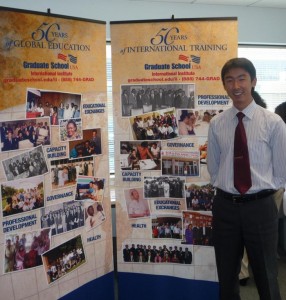 Internships in Kyrgyzstan (2011-2012)
I worked in a micro-finance company (Financial Group Kompanion) for six months and then applied to the "FLEX Exchanges to Internships" program run by American Councils for International Education and the U.S. Embassy in Bishkek. Fifteen finalists were selected and placed in different ministries and governmental agencies for a four-month part-time internship earlier this year, a truly competitive, challenging and beneficial experience for all of us.
My placement was in the Department of Economy & Investment, part of the Office of the Prime-Minister's Office, where I had a chance to work in new, fast-paced environment at the highest level of the government. My tasks included close work with and assistance to the Department head, analyzing documents, legislative project proposals and plans to implement newly enacted laws such as the tobacco production limits, technical regulations for licensing of different import products, government support of innovative activities, etc.  Moreover, I was responsible for monitoring the execution of the Prime-Minister's assignments by keeping in touch with ministries and tracking their actions. I was exposed to both the internal working procedures and regulatory process of the government, while being active in the administrative sphere as well.
Summer Internship in Moldova (2010)
The summer after I returned to Kyrgyzstan – having completed my first year at the American University of Central Asia (AUCA) – I joined a small, international group of university students (members of AIESEC) as part of a development internship in Moldova called "Discover my World." Over a period of eight weeks, our multi-national team (from Turkey, Slovakia, China, France, Germany) attempted to illuminate local high school students with tips on personal development and how to enrich their skills and knowledge to make the world better. The whole project was energized by the passion and enthusiasm of local high school students to learn more about foreign countries, break existing stereotypes and benefit from common work efforts. This was a perfect vehicle to continue practicing my "global citizenship" – an evolving outgrowth of the FLEX experience – and I enjoyed it immensely.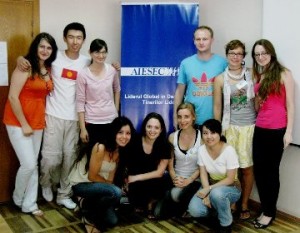 Summer Internship in Washington DC (2011)
In summer 2011, I had the opportunity to intern in Washington DC at the International Institute of the Graduate School USA. My two-month assignment focused primarily on developing a global young professionals' network – participants and alumni of a wide array of international exchange programs working in both the public and private sectors back in their home countries. The primary target groups included alumni of FLEX, A-SMYLE, YES, Muskie and other such programs who could share their rich experiences of working for local governments, NGOs and nonprofits and playing an active role in citizen engagement efforts. It was truly beneficial for me to be around public service professionals, working with international delegations and building bridges with people from all over the world. I did lots of cold-calling and front-line research, contacted individuals from many countries and used my personal contacts from FLEX and AIESEC – including those from the internship in Moldova in summer 2010. The result of this outreach was a solid foundation of public service professionals willing to collaborate on promoting good governance worldwide.
Growing Interest in Public Management
Public management is definitely an exciting and interesting field, and I'm now thinking about pursuing a graduate degree in public administration in the near future. The government workforce I've come to know is diverse and consists of professionals of different ages, including many young people with strong academic and professional backgrounds. There also are lots of experienced employees who have been in their positions since the early '90s, setting an example for and mentoring the next generation of public managers. This four month internship was truly interesting and engaging for me, and I developed priceless workplace skills, while enhancing and practicing "academic" ones. I hope to have more rich opportunities like these to develop the leadership skills and fresh ideas to help Kyrgyzstan continue its march forward.
American Councils has certainly had a profound impact on my life. The FLEX year in the U.S. was a life-changing experience – a bridge to becoming a citizen of the world, with a global community of friends and opportunities to pursue any educational or professional path I choose.
Izat Osmonov is a FLEX alumnus '09 and a U.S.-CAEF fellow from Kyrgyzstan currently in his senior year at the American University of Central Asia (AUCA) in Bishkek, Kyrgyzstan. He can be reached at: izat [dot] osmonov [dot] 10 [at] gmail [dot] com