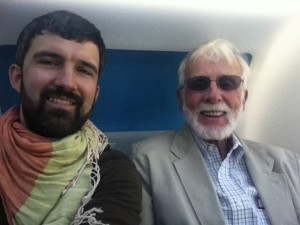 Dmitriy Plyushchev '95
Moscow, Russia/Colorado Springs, CO
Bob Wardwell, an engineer and inventor from Colorado, has raised seven children and hosted two exchange students. It was back in 1994-95 when his family welcomed Dmitry Pluschev '95 from Moscow. This summer, Bob, now 82, made his first trip to Russia to visit Dmitry, his wife Irina (FLEX '94) and their four children in Sergiev Posad.
Wardwells and Pluschevs kept in touch over the years. Dmitry has been back to Colorado several times and met his "host nephews and nieces"; his own kids and wife have talked to Bob over Skype. But in-person meetings are always better. During this visit, Dmitry and his family showed Bob some of Russia's many faces, both in and beyond Moscow. Their seven hundred year old city, located 70 kilometers outside of Moscow, offered a view of provincial life: unusual beautiful Orthodox monasteries and cave temples, quiet lakes hidden in dense green forests, the contrast of old-time, Soviet-era, and new houses, abandoned factories, destroyed roads. Shashlyk at a dacha was a good compliment to the all-Russian experience.
On their trips into Moscow they met Dmitry's parents and explored some famous city spots, including Red and Teatralnaya squares, GUM and MGU, Vorobyovy Gory and Rublevka. In the process they faced the realities of the megapolis: Bob was amazed by the three-hour long traffic jams, including one where they were stuck waiting for a Medvedev or Putin motorcade to zoom by.
One of the unusual visits was to the Monino Military Aviation Museum where Bob recognized quite a few showpieces thanks to his naval aviation background. They have also taken the fast Sapsan train to St.Petersburg where they visited Peterhof and the Hermitage, walked the city streets, and took some fun boat and trishaw rides.
For Dmitry, now the host and a father of four, his host dad's visit gave him some new insights into his own FLEX year and the lessons he took home after a year as a member of Bob's family. He lived with three host sisters, which he remembers as a first big challenge, since he is the only child in his natural family. They had fun recalling the Wardwell family traditions, and how Dmitry managed to fit in. He remembered their talent shows during holiday get-togethers, and how he once dressed up as each family member and did funny impersonations.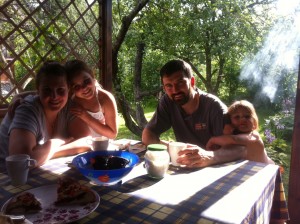 Dmitry and Irina are raising their children to find and develop their talents and family performances are also becoming a tradition. Alexey (age 13), who plays percussion, gave Bob a small concert, as did Lisa (age 9), who plays both piano and violin. When asked if Bob gave any advice about raising kids, Dmitry reported, "Yes, not directly, but through his actions! Bob is pretty intense when it comes to keeping teenagers busy. When he learned that Alexey is really into making videos and posting them on YouTube, he asked if he could chip in for Alexey's birthday present — a new laptop — with advanced video editing software."
Thinking back on what he saw and learned from the Wardwells, Dmitry remembers how hard their family worked. His host mother and father both managed their own businesses. They were up at six a.m. and their days were always busy. And he hasn't forgotten being impressed and even inspired by how brave they were to risk taking in some unknown teenage guy from former Soviet Union to their already busy family. Given what Dmitry had heard about the U.S. and Americans with their individualistic consumerist society, he couldn't quite figure it out. They had a lot of their own and a few adopted kids, but were neither religious, nor socialists, so he was pleasantly surprised and intrigued by their values. Even today thinking about how much work and energy it takes to host an exchange student, Dmitry confessed honestly, "Great as it is, I'm not sure I would choose to do it."
Another huge lesson was about communication and attitude. His host mother Naeda, who lived with different kinds of cancer for almost twenty years, died of the disease a year ago. And of course she is missed. Dmitry admired his host parents' relationship and how they communicated and supported one another. He saw how they solved problems by talking through them and how they cherished every day of their life.
It seems that the visit was a success, as Bob plans to come again.  Dmitry and Irina are building a new house, and Bob wants to see it done! Bob and Dmitry studied the blueprints and visited the construction site together, and while Bob didn't offer much advice, he did confirm Dmitry's idea about the importance of making sure that the kitchen is large enough to accommodate  the whole family "as everyone eventually ends up at the kitchen". Dmitry can't say for sure when the new house will be ready as it is a new kind of project for him  — but he really hopes Bob can be there for the housewarming party!