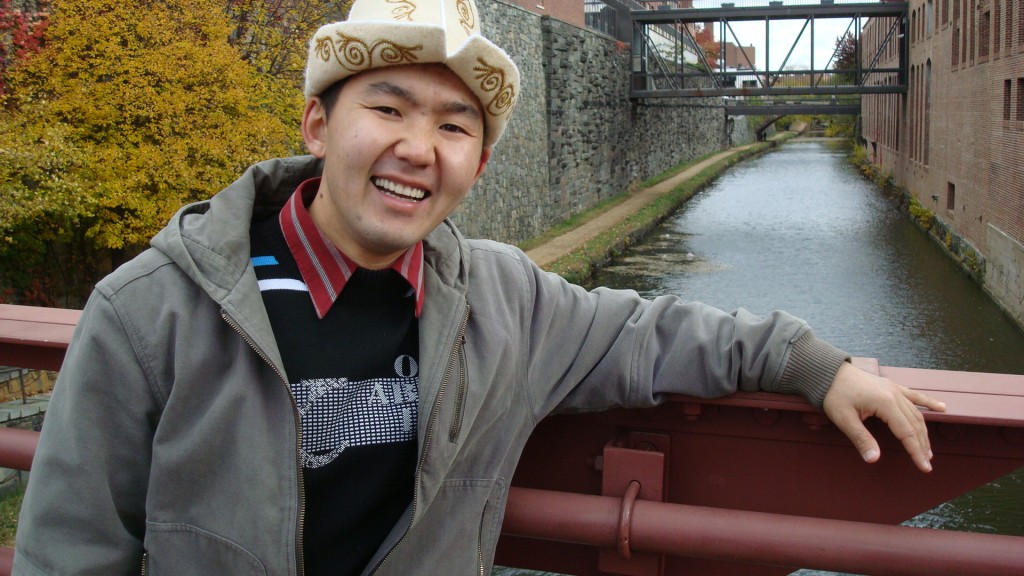 Abai Iliyazov '05
Chuy, Kyrgyzstan/Gardendale, AL
Please meet Abai Iliyazov '05, whose Kyrgyz "Ak Kalpak" magic hat has opened doors to adventures and helped him make friends around the world. Even I met Abai thanks to his hat. It goes like this: he was walking through the corridors of a U.S. State Department office building in Washington DC, sporting his Kyrgyz "Ak Kalpak." A man in the know about Kyrgyz traditions and culture inquired about his head gear. And as small world stories go, Abai and this gentleman were mutual acquaintances of Cale Wagner, American Councils Kyrgyzstan country director. The man in the hat turned out to be Abai, FLEX '05 alumnus from Chuy, Kyrgyzstan. As Abai explains it, "wearing that hat helps me meet a lot of people without exerting too much effort!"
Are you by chance wondering what Abai was doing walking the halls where foreign policy is made in the U.S. State Department? He was there to train for a new job. This November he began working in the consular section of the U.S. Embassy in Baghdad, Iraq. He may in fact be the first FLEX alumnus to workfor the U.S.  Government outside of his home country or the U.S.
Abai spent his FLEX year in Gardendale, outside of Birmingham, Alabama. He lived with a traditional southern family and describes it as "a very good year for me. I lived with a kind family and they were eager to help me." At school he was considered a "nerd" because he studied hard and fell in love with his teachers, whom he describes as fascinating. Joining the Scholar Bowl team gave him the chance to make friends with team members who he found to be special people – real personalities!
After his year in the U.S., Abai returned to Kyrgyzstan with a different attitude about the United States. "If I hadn't spent that year there, I wouldn't have gotten those insights into American culture and people. Now when I am asked about Americans, I say they are wonderful people. They are decent, open-minded, and have similar human values. I always thought Asians appreciated their families more, but I learned that Americans also have those close ties with relatives."
Returning home Abai wanted to become a diplomat, and entered the Turkish University of Bishkek to study international relations. He quickly decided that the curriculum was dull and decided to study Arabic instead. His teachers of Arabic came from Syria, Egypt and Morocco, and through them he learned thatthe Arabic-speaking world is not homogeneous and that instructors all had different perspectives on life.
He was recruited by Manpower to work for American military stores located inside the compounds of Air Force Exchange Services, that serve soldiers. He accepted work in Baghdad in one of these stores, working the cash register and stocking shelves, in a "small Walmart"! He made friends with fellow employees from Uganda, Nigeria, and Pakistan, in addition to Iraqis. The manager noticed his superior English skills and promoted him to "damage and defect associate." But that work was neither inspiring nor high paying, so Abai looked for other opportunities. On a whim he applied for a job with the consular section of the U.S. Embassy, and four months later he signed a contract and flew to Baghdad to meet his new colleagues. They all thought he had a U.S. Embassy affiliation, and were surprised when he explained that he came from "nowhere." He had to prove that he deserved the position. "My experience as an exchange student plus my language skills were factors that qualified me, as well as good recommendations, even from the military compound." After a month-long training program in Washington, Abai set off to work as a visa assistant in the consular section.
Thinking ahead, Abai will spend the next several years working for the Embassy and then hopes to pursue a Master's degree. In ten years he hopes to work for the Kyrgyz government, helping his country grow. Thinking back to his FLEX year, he remembers wondering, "why can't we live the way Americans live?" There in Alabama, not one of the wealthiest states, Abai saw that people lived more comfortably than even wealthy Kyrgyz citizens. He intends to use his skills to do something for his own people.
written by Mary Shea, Editor, The Bradley Herald