By Tatiana Sobusiak '22 (Poznan, Poland / Oshkosh, WI)
When one of my family members was diagnosed with breast cancer, it was one of the most challenging periods of my life. However, I will never forget her beaming smile when, one day, she received a pillow shaped like a heart in the hospital. Upon learning that the heart pillow was part of a larger initiative, Heart from Heart, I found the organizer's contact information, and I decided to support this project with the help of my fellow FLEX alumni.  
Since 2018, Heart from Heart has been an active campaign. The project brings people together to create pillows that help women feel more comfortable during cancer treatment. The pillows also remind the women that they are not alone. Excited to participate in the project, I scheduled a meeting with the woman who coordinates the gifting of pillows. There, she taught me, Zosia Paziewska '22, Joanna Niewolna '22, and Aleksandra Michalska '22 the steps to make a heart pillow.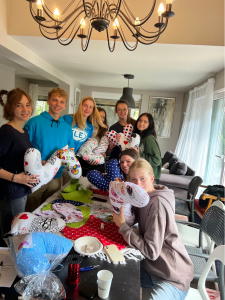 On September 17, eight FLEX alumni gathered at my house to begin sewing pillows. Supported by FLEX alumni funding, I provided snacks and drinks for everyone at my home as we sewed 25 pillows in three hours! The coordinator of the project also attended to guide us and provide needles, materials, and bags. We were surprised to learn that our event marked the first time a private home hosted the sewing of pillows for the project!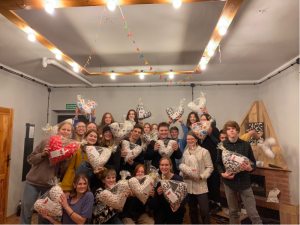 After the meeting, I contacted the 37th Poznan Scout Team, of which I am a member, and organized another sewing event. On December 2, I met with 20 other scouts in our scout meeting room, and the project organizer came back once more to help and supervise us. As we laughed and talked for nearly two hours, we managed to sew another 21 pillows! We also had a lot of fun writing letters to deliver to the patients along with the pillows. It felt nice to hopefully help someone going through a hard time and know that others are thinking about them and cheering them on during their fight.  
As I write this article, I see bags full of 46 heart pillows waiting to be picked up and taken to the hospital to help spread joy, and it fills my heart with warmth. I am grateful for this project, everyone involved, and the chance to help make a difference. This isn't the end! I plan to organize more meetings in the future so that even more hearts can be sewn and filled with joy in return.