FLEX alumni from Central Asia and the South Caucasus regions gathered in spring of 2022 for the FLEX-Ability Workshop on Well-being and Resilience, a hybrid program that included a virtual, international workshop followed by in-person programs in each participating country. In total, 82 alumni from eight FLEX countries participated, including Armenia, Georgia, Kazakhstan, Kyrgyzstan, Mongolia, Tajikistan, Turkmenistan, and Uzbekistan. This workshop was built by alumni for alumni, as all topics were proposed and selected by alumni via a survey and all trainers were selected with help from Alumni Coordinators. The program's curriculum was developed and led by mental health specialist Ksenija Edelinksi '13 (Novi Sad, Serbia / Kemmerer, WY) and licensed mental health counselor and CLS '15, NSLY '13 alumna Robin Smith (Seattle, WA) together with five mentor-trainers, all FLEX alumni.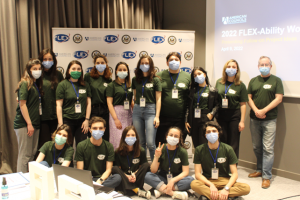 The online component took place from March 30 to April 3, 2022, on Zoom. It included eight sessions dedicated to mental health, including preventing burnout, dealing with anxiety, and supporting one's community by learning about suicide prevention. The program also included two project management sessions led by digital learning and project management expert Zhanna Tsoy '11 (Taldykorgan, Kazakhstan/Tulare, CA) and mental health advocate Diana Rogava '19 (Tbilisi, Georgia / Ankeny, IA).  
The following weekend, April 9-10, Alumni Coordinators and other American Councils staff in each participating country organized in-person programs to build on the virtual program. This component featured additional sessions in project development, as well as and specific mental health related activities different for each country and developed and unique programs related to mental health involving local partners and professionals, including discussions with mental health professionals, art therapy sessions, and meditative activities such as yoga and hiking. 
"The workshop forged a bridge of friendship between me and my teammates with whom I cooperate even until these days," participant Kurmet Zaman '18 (Aktau, Kazakhstan / Bedford, IN) shared. "I also liked the main aim of workshop, which is mental well-being and resilience – the topic that is super important nowadays but is often disregarded as such. I am very thankful for workshop leaders and coaches who put their best effort to train a new generation of young leaders who will promote and spread the word about the importance of mental well-being at home, in the workplace, or in public. With the FLEX Ability follow-up project, I can now turn my ideas into action and an impactful community event." 
Other participants echoed Kurmet's assessment as they integrated lessons from the workshop into their lives. Anna Meliksetyan '18 (Yerevan, Armenia / Auburn, WA) noted that following the workshop, she began using active listening during conversations and noticed how this improved her conversations and the way her interlocutors felt about them. 
One of the trainers, a director of the Career Center at Adam University in Kyrgyzstan, Altynai Klimova '14 (Karakol, Kyrgyzstan / Woodland Park, CO), also affirmed the exercise on active listening: "We should not rush to agree, disagree, or add our own experience because we do not know how to react to certain sensitive topics. Most of the time the person just needs to be heard. Now I try to be a safe place for the students I work with." 
Participants also praised the anxiety management portion of the workshop and the practical advice mentors offered, such as how to interrupt the overthinking process with strategies such as progressive muscle relaxation, breathing techniques, or journalling to disrupt fixation on problems.  
"As an over-thinker, most of the time I worry a lot about things that aren't even logically possible to happen and I used to end up letting my overthinking habit steal my happiness, but that's until I participated in the program," reflected Suvd-Erdene Altangerel '19 (Khovd, Mongolia / Laveen, AZ). "I learned a lifelong habit to fight with my pointless thoughts. I am constantly journaling ever since I've completed the workshop, and this helps me deal with overthinking and rumination. I finally feel like I'm getting free from all those strings that were holding me back from growing."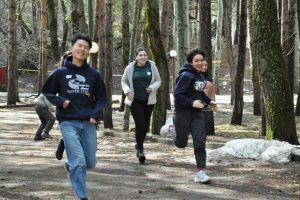 "If I am anxious, I use a grounding exercise or write down five things I see, four things I hear, three things I touch, two things I can smell, and one thing I can taste," Anna Neznamova '20 (Balkanabat, Turkmenistan / Pleasantville, IA) shared, referencing techniques she learned through the workshop. "Also, now I can differentiate between panic and anxiety." 
Alumni did not keep the skills, strategies, and outlooks they gained to themselves, but instead employed what they learned to help their families, friends, and communities. From May through September 2022, alumni reported 65 projects inspired by the workshop, engaging 84 alumni, 935 participants, and 107 non-alumni volunteers in 27 towns. The majority of projects were mental health awareness campaigns or programs on how to relieve stress and anxiety, such as art therapy sessions.  
In Kazakhstan, for example, Temirlan Amankulov '20 (Taraz, Kazakhstan / Warrenton, OR) organized a Coffee and Mental Health Master Class on supportive, active listening. In Armenia, Anna Meliksetyan '18 (Yerevan, Armenia / Auburn, WA) designed posters, brochures, and an Instagram account with eye-catching graphics on the topic of mental health as a resource for patients at Heratsi Medical Clinic. In Mongolia, Bud Bayndalai '20 (Erdenet, Mongolia/ Otsego, MI), Uyanga Ikhbayar '19 (Arvaykheer, Mongolia / Burleson, TX), and Buyankhishig Enkhjargal '20 (Ulaanbaatar, Mongolia / Wheeling, WV) organized a workshop on mental health tools and how to appropriately discuss mental health issues. 
This program was supported by the following FLEX alumni mentor-trainers: 
Altynai Klimova '14 (Karakol, Kyrgyzstan / Woodland Park, CO), director of Career Center at Adam University

 

Arus Harutyunyan '09 (Kapan, Armenia / Vineland, NJ), certified facilitator in systemic constellations method

 

Diana Rogava '19 (Tbilisi, Georgia / Ankeny, IA), mental health advocate

 

Sophio Tabatadze '04 (Tbilisi, Georgia / Elk Mound, WI), teacher and public speaker

 

Zhanna Tsoy '11 (Taldykorgan, Kazakhstan/Tulare, CA), digital learning and project management expert