The U.S. Embassy in Warsaw and American Councils in Poland teamed up to launch a virtual mentoring program for 32 alumni of U.S. Government funded programs. Many of the program's mentees are FLEX alumni.
The young FLEX alumni community is gaining professional skills as they are brought into the fold of professionals in various fields who are also alumni of U.S. government exchange programs, such as the Fulbright and International Visitors Leadership (IVLP) program. Through the mentoring program, mentees and mentors work on projects to help their local communities, while also improving upon their professional development.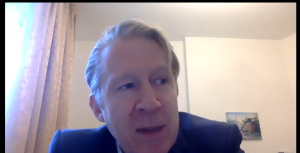 This year the program adjusted to comply with government restrictions due to the COVID-19 pandemic. Typically, the program includes various in-person events and trainings, but the 2020 program connected instead through Zoom. Even though the events were not in-person, participants still had the opportunity to meet each other and set goals for their mentoring partnership. In addition, global youth trainer and educator Simon Norton gave presentations to both mentors and mentees to help them succeed in their mentoring relationship.
Through this program, mentors and mentees will develop community projects together that will meet real needs in the community.  The mentoring program is an annual program supported by the U.S. Embassy in Warsaw that allows for cross generation USG Alumni connection and skill development.  Even though this year differed from past years, participants and organizers have overcome the challenges and the program has been a success.  The mentors and mentees of the program have benefited greatly by improving their skills and making new friends along the way.
Written by Andrzej Nowicki '16 (Warsaw, Poland/Waterloo, IA)