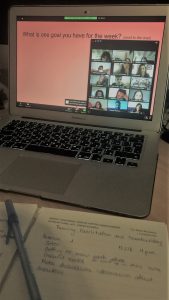 From August 15-18, 50 FLEX and YES alumni from Albania, Bosnia and Herzegovina, Bulgaria, Kosovo, Montenegro, North Macedonia, and Serbia gathered on Zoom for the fourth annual IDEAL Workshop. This event was a milestone in two ways – it was the tenth annual alumni workshop held in Southeast Europe and the first held online.
In Kosovo, Montenegro, and North Macedonia, participants joined from a single location, supplementing the virtual program with in-person activities related to teambuilding and professional development while maintaining physical distance, wearing masks, and disinfecting hands frequently.
All participants began the first three days learning teambuilding, constructive communication, dialogue facilitation, and conflict resolution skills before breaking into smaller "theme" groups where they explored one of three topics: the 7 Habits of Highly Effective People, Mental Health, or Working With What You Have (how to organize a community project). Participants also gathered each day in their country groups to share what they had learned in their theme groups and discuss ideas for related community projects.
The final day of the workshop was spent in country groups learning more about project planning and implementation and developing project ideas, which participants then presented to one another and American Councils staff for feedback. In Bosnia and Herzegovina and Serbia, U.S. Embassy representatives also joined these presentations.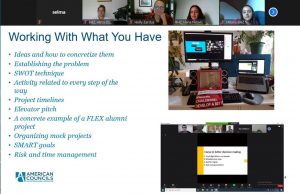 Overall, this first virtual workshop experience exceeded expectations for the majority of participants, according to program evaluations. "To be truthful, I was looking forward to the in-person event, so I was kind of disheartened when I learned it would all be online," one stated. "However, IDEAL is definitely the most informative workshop I have attended ever since becoming an alumnus." Another shared, "it was very well handled and an amazing learning experience. I liked the feeling of connection and understanding with people who aren't in the same room with you."
Participants are now working on 23 individual and group projects related to what they learned at the workshop.