Vira Hrabchuk '19 (Ternopil, Ukraine/Colorado Springs, CO) started a theater company in Ukraine called "Poklykannia" to raise funds for disabled children in her community. She was inspired to become a disability rights activist after her FLEX year in the U.S.  This theater is growing, with four new members having recently joined the company, bringing the total number to 17. In addition to a growing group of members, they were invited to perform outside their city of Ternopil for the first time, with a major tour of Odesa coming up, where they will perform for cadets of the Odesa Naval Lyceum.
Through her company, Vira was introduced to a deaf orphan girl who will soon be homeless. Vira recognized that this was a cause to use her theater company for and set a goal to help out this girl. Last semester, Vira wrote a children's grammar book based on a selection of a Ukrainian poet's works. She found a publisher willing to donate half of the profits of the book sales to help the orphan girl. To raise money to publish the book, Vira reached out to her American friends that she had made during her FLEX year and coordinated with her theater company to perform fundraising concerts in both countries simultaneously. The concerts were a huge success, and she reached almost half of her fundraising goal.
In addition to helping out this member of her community, Vira's theater put on a performance of "The World Should Know" to commemorate the victims of Holodomor (the Ukrainian genocide by starvation) and educate the audience of this tragic period in Ukrainian history. These performances raised nearly $150 for a local family that adopted 10 children with severe disabilities. Afterwards she visited the family in person to hand them the funds they had raised for them.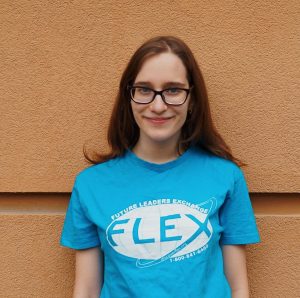 In 2019 Vira was awarded the Merelyk Grant, a grant created by Ukraine Global Scholars Program for those who are creating a positive social impact in Ukraine though sustainable projects. Vira was one of the first recipients of this grant. Her goal with the funds is to establish a nationwide charitable youth theater and regularly put on performances that address important social issues. Money raised through these performances will be donated to terminally ill or disabled children throughout Ukraine.  As of the date of publication of this article, a charitable theater has already been established in the city of Lviv and they are currently working on their first charitable production.
Vira Hrabchuk '19 has demonstrated a strong willingness to bring positive change in her community. The FLEX alumna has successfully launched the Poklykannia Charitable Theater, is finding ways to support children with disabilities in Ukraine and is working on ways to further expand the reach and those she can help. Vira is passionate about helping others, and her work to bring positive to her local and national community inspires the FLEX alumni community around the world.