FLEX alumna Anna Petrova '14 (St. Petersburg, Russia / Holland, Michigan) shares her story of living with Louise Shumaker – her host mother and a person who had a great impact on her life. A story written by FLEX alumna Tatyana Movshevich '04.
'I was assigned a host family very early on. I found out that my host parents were in their mid-sixties, my host Mom was blind, and they lived in a small town in Michigan. When I described the family to my Russians friends and other fellow FLEX finalists, everyone thought that I was crazy for accepting their offer to live with them. Well, they were all wrong. It turned out that I had one of the best host families in the history of the FLEX program,' says Anna.
We speak on the phone during our lunch break. We are lucky to be working in the same time zone, with Anna living in Dublin and me just across the sea, in London. She is speaking very fast and is emotional; when I ask her about her current job and life in Ireland, she quickly replies:
'I can email you all of that later, but it's not that important. I want you to hear about my host Mom. I'm scared that we might not have enough time to speak about her'.
'Sure,' I agree immediately. I really loved living with my host family on FLEX and I am quite curious to compare experiences. 'Tell me what it was like living with them'.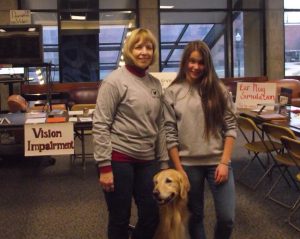 'It was great, really great. Louise was the kindest and warmest person I've ever met in my life,' I can hear a smile in her voice. 'She changed my perception of life completely'.
'Do you still talk to each other?' I ask.
'I talk to her every day in my mind, but we haven't spoken in real life for the last three years. She died in 2016. Her cancer progressed very quickly, and she was gone within six weeks. Never in my life before or after this had I experienced such pain. I have been crying for the past three years.  I also know that Louise had a great influence on the person I am now and all my achievements: my job as an Associate Account Strategist in Google and my previous job as an Account Manager at Procter and Gamble and my international experiences in Switzerland and Ireland.'.
*************
'One of the things that surprised me in Louise was her independence and strength. She made a successful career as the Director of Disability Services at Hope College, brought up two children, babysat four grandchildren, and hosted an array of exchange students. She had an opinion about everything, even about the color of new curtains in their living room,' Anna laughs. 'She was also a great cook. Here at Google we are fed very well – Google is famous for its good working conditions. But my host Mom's cooking tops everything I've ever tried.
However, what amazed Anna most during her FLEX year was something completely different.
'In Michigan I started believing in real love. My host Dad, Vernon, is fully capable and for decades he supported Louise in everything. Through brain surgery and a battle against cancer, Vernon was by her side during all of it.  But in no way was their relationship based on duty or dependency. They had so much fun with each other, they shared everything and helped each other grow. Neither before nor after did I encounter such a happy couple,' remembers Anna.
Their love and happiness were contagious and touched many lives that came into contact with them. During her FLEX year Anna's host parents took her to Washington D.C. and Florida and made sure that she participated in lots of extracurricular activities and volunteering. And once, when Anna got very sick, Louise took great care of her:
'It was after Thanksgiving holidays and I woke up with a terrible sore throat and high fever. That day Louise had a couple of big meetings at work, but she postponed them and stayed at home with me. She made me a delicious turkey broth and we watched films together. When I asked her if she was upset that she had missed some important work because of me, she replied: 'Don't be silly. People always come first'.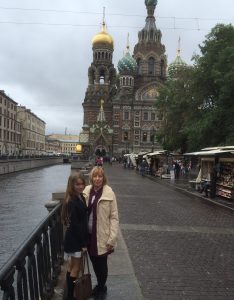 After a year back home in Russia, Louise and Vernon visited Anna in her hometown of St. Petersburg.  It was the first time her host parents left North America and for weeks prior to the trip their extended family had told them, sometimes jokingly, sometimes with a concern in their voice, that it was a crazy idea. That pronouncement didn't discourage them and to the astonishment of the whole community, they crossed the Atlantic and were reunited with their Russian daughter.
After Anna's stories about her American family, her Russian parents were seriously excited. They opened their home to them and prepared to be as hospitable as possible. What they hadn't expected was an immediate connection they developed with an elderly foreign couple from the opposite side of the world.
'My parents instantly understood why I loved Louise and Vernon so much and became very close. We showed them the best of St. Petersburg and Moscow and my parents tried to pay them back for all the kindness and love they showed me during my exchange in the U.S. Last August my host Dad returned to Russia to spend time with my family again. Only this time he was on his own,' Anna pauses.
She thinks for a second and then continues:
'This is not a story about my pain. It is the celebration of an amazing life which was full of exciting, happy, and funny stories.'
'Can you share a funny story about your host Mom with me?' I ask in the end.
'There were lots. Once I found out that my English language teacher from Russia was visiting Chicago, so Louise arranged a taxi to take us there to meet her and arranged a hotel for a night. We had dinner together with my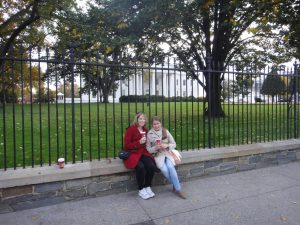 Russian teacher and had such a great time that we returned to the hotel at midnight. Except, as soon as we walked into the lobby, I spotted that the internal décor was completely different. We had gone to a different hotel with the same name! We found our hotel on Google maps and walked there on foot in the middle of the night. As we were walking down Chicago streets at midnight, Louise and I couldn't stop laughing. At one point she said: 'One confused Russian exchange student and one blind American woman in search of their hotel – what a pair we are'. Louise was the best adventure companion one can ask for. How I wish to be back in that evening for just a couple of minutes now'.
Hosting an exchange student provides life-long connections for the host family and the student, thus strengthening relationships between citizens of the world.  #HostforAmerica
https://eca.state.gov/programs-initiatives/host-high-school-student/