As FLEX celebrates the 25th anniversary of the program, we also celebrate the 15th anniversary of FLEX alumni organizing amazing Global Youth Service Day (GYSD) projects. Enjoy this article where FLEX alumni team highlights some of the best of the best projects. During the past 15 years, alumni engaged in the largest worldwide celebration of youth engagement in social projects through Global Youth Service Day.
These highlights include some of the best projects from 14 FLEX countries, highlighting the themes of GYSD: Community Building, Education, Environment, Health, Human Rights and Hunger that go along the goals of the FLEX program.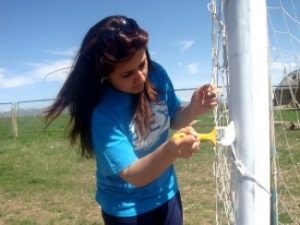 ARMENIA: (GYSD 2012) "A week of GYSD in Gyumri" by Hasmik Tonapetyan '09
From April 26 to May 4, FLEX alumni in Gyumri partnered with the City Representative Hasmik Tonapetyan and the Student Council of the Gyumri State Pedagogical Institute to initiate an informative and educational program in the village of Vahramaberd. This project included a series of events for local participants, including a talk on Ecology and Hygiene, a tree-planting event, and a clean-up event. Five FLEX Alumni participated in this multi-faceted project.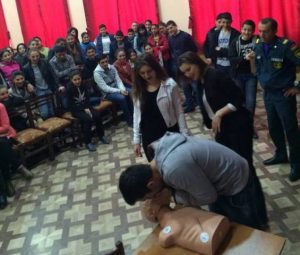 ARMENIA: (GYSD 2017) "Be Safe Not Sorry" by Marianna Ghazaryan '16
Marianna and fellow alumna Anahit Ghazaryan '15 organized a seminar to raise awareness about gas leaks and gas poisoning in Armenia.  Sessions were led by speakers from the Ministry of Emergency Situations and the Nork-Marash Medical Center, who taught participants how to avoid and protect themselves from gas poisoning and basic first aid treatment in case of a gas emergency. The training involved 90 direct beneficiaries and was hosted by the Qaghsi Village School in Central Armenia. The principal of the Qaghsi School Mr. Melkonyan said, "Now our students know how important it is to be careful while using gas. The examples that the trainers gave even touched me!"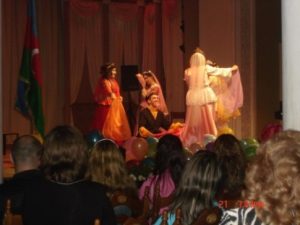 AZERBAIJAN: (GYSD 2008) "Down Syndrome Association Charity Event" by FLEX alumni
FLEX alumni in Azerbaijan, in celebration of Global Youth Service Day, organized a Down Syndrome Association Charity Event to draw attention to the genetic disorder in Azerbaijan. Fifteen children with Down Syndrome put on a performance for the guests, which included various dances. Famous Azeri composer Uzeir Hajibeyov, honored Azeri pianist Gulshan Annaghiyeva, and vocalist Gulnaz Ismayilova also performed at the event. The event closed with a silent auction, where crafts, artwork, and handmade items created by children were sold. The proceeds of the event exceeded $3,800 and were used to make repairs at the concert hall where members of the Down Syndrome Association practice dance and take part in a puppet theater.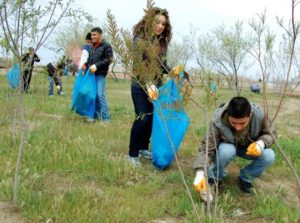 AZERBAIJAN: (GYSD 2009) "SOS Village Soccer and Caspian Sea Park Clean Up" by Samir Khalilov '07
On April 25, 2009, five FLEX alumni visited 90 students at SOS Children's Village. Alumni played soccer with kids and then held a presentation about Education in the United States, the FLEX program, and their experience in the United States. On April 26. 2009 a group of six FLEX Alumni in Azerbaijan organized a clean-up activity involving 30 local youth from the Sahil district, which lies 35km away from the capital. Volunteers cleaned up the area by the shore of the Caspian Sea and also the park of the Sahil district.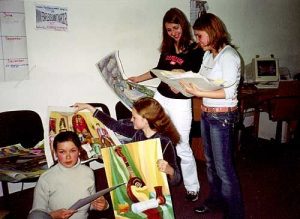 BELARUS: (GYSD 2004) "Arts Across Generations" by FLEX alumni
Belarus alumni collected over 420 pieces of children's artwork, framed it, and presented the pieces jointly with the artists to the residents of a local retirement home.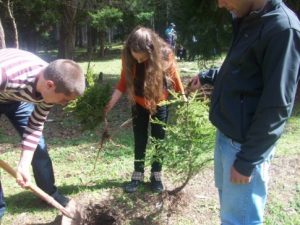 GEORGIA: (GYSD 2011) "Serving the Environment" by Natia Shairkadze '08
Natia Sharikadze '08 mobilized 60 volunteers for a two-day community service project. During the first day of the project, 20 high school students from three public schools in Borjomi cleaned up the area around a World War II Memorial. On the second day, 40 volunteers planted 150 trees in the forest in Sadgeri, Georgia.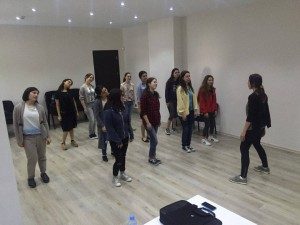 GEORGIA: (GYSD 2016) "Healthy Girls, Healthy Future" by Ketevan Chitashvili '10
The project 'Healthy Girls, Healthy Future' organized by Ketevan Chitashvili '10 took place at the Center for Crime Prevention in Tbilisi on April 22-24, 2016. The workshop brought together 20 teenage girls from disadvantaged families to teach them about reproductive health and the principles of healthy living. Participants received information about various components of healthy living such as nutrition, hygiene, and fitness. Volunteer trainers from GYDEA Peer Educators gave presentations on well-balanced diets and reproductive health, while representatives from a dental clinic gave a presentation on dental hygiene. Moreover, a fitness instructor from FitCurves Georgia gave a lesson on how to start and maintain an exercise routine.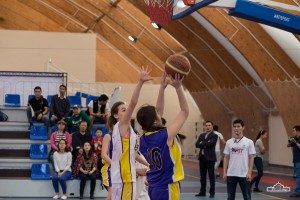 KAZAKHSTAN: (GYSD 2016) "Women's Streetball Tournament" by Aizhan Kapysheva  '10
On April 17, Aizhan Kapysheva '10 organized the first ever streetball tournament for female students in Kazakhstan. In total, 31 games were played by 16 teams representing 10 different universities in Astana and Karaganda. The main goals of the project were promoting a healthy lifestyle, empowering young women, and creating a community of socially engaged and active students.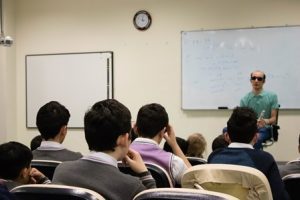 KAZAKHSTAN: (GYSD 2017) "Nothing is Impossible" by Timur Amanbekov  '14
FLEX alumni organized an event where 34 children with visual disabilities met with Anuar Akhmetov, a professional swimmer and member of the National Paralympic Team of Kazakhstan. Anuar shared his story and explained to the children how he motivates himself to get in the pool and train every day.  Next, Ziyat Abdykaimov, a representative of Nazarbayev University, spoke about inclusive education in Kazakhstan and gave participants advice about choosing a suitable university. In addition to learning about the admission process to enter Nazarbayev University, participants also learned how to participate in FLEX.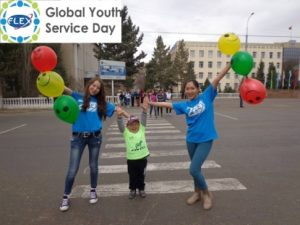 KYRGYZSTAN: (GYSD 2014) "5 Minutes May Save Your Life" by Meerim Baktybekova '08
Meerim Baktybekova '08 organized a week-long GYSD project in various regions of Kyrgyzstan to raise awareness about road safety. The event was organized in partnership with PA "Road Safety", the World Health Organization, the Ministry of Internal Affairs of the Kyrgyz Republic, and city halls, schools and universities in each city. Over 1500 children aged 14 to 18 took part in this project. During the project, participants attended training about road safety followed by interactive games and quizzes. Participants were given informational DVD disks, brochures, reflectors, and illustrated books.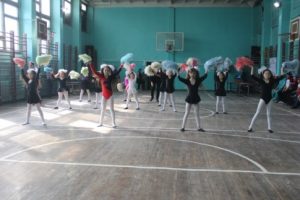 KYRGYZSTAN: (GYSD 2015) "HealthInvest" by Altynai Melisova '14
Altynai Melisova '14 and Zhibek Kamalbek kyzy '14 organized the event HealthInvest, which aimed to promote sports and healthy lifestyles in their community. Ten families participated in the project, and more than 100 people attended to watch and cheer. The project was highlighted on some online news sources, and project coordinators were invited to speak about the project on TV to motivate Kyrgyz youth to take part in future events.  More information can be found here: http://goo.gl/O7wpAe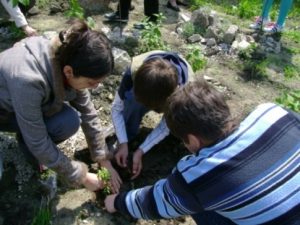 MOLDOVA: (GYSD 2008) "An Inconvenient Truth Seminar" by Valeria Svart '07
In her attempt to raise awareness about environmental issues and global warming, Valeria Svart '07 teamed up with a group of linguists and FLEX alumni to translate the movie "An Inconvenient Truth" to Moldovan. Alumnae held seven presentations and showings of the film at local universities and schools from April 17-May 7 for over 400 youth. After watching the film, the participants discussed the movie and expressed their opinions on the present situation. As a follow-up to the seminars, alumni organized clean-up and tree-planting activities. On April 29 and May 8, 27 volunteers took part in such events at School #23.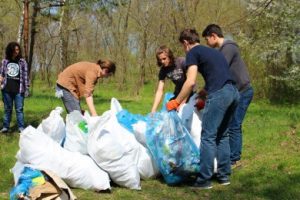 MOLDOVA: (GYSD 2015) "EcoMania 2015" by Elena Nicoleta Man '14
The goal of the campaign "EcoMania 2015" was to raise awareness about ecological issues in Moldova to inspire and engage citizens in solving their community environmental problems. EcoMania comprised of a set of five interlinked activities (EcoAware, EcoOrganized, EcoTrendy, EcoQuest, and EcoExhibition) that took place from March 20 to May 7. More information can be found here: http://goo.gl/aTGj4U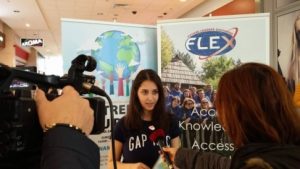 MONTENEGRO: (GYSD 2017) "Annual Food Drive" by Zorana Dulovic '15
Zorana Dulovic '15 and Dina Abazovic '15 organized a group of 15 volunteers to plan the fifth annual GYSD project in partnership with Food Bank Montenegro. The goal of the project was to collect over 2000 kg of food and hygiene items for vulnerable families. Montenegrin citizens and companies donated to the cause and exceeded the efforts, contributing 2894 kg of donated items.  Prior to the event, the project received massive media coverage, both from media channels and social media websites. The event took place at the biggest shopping mall in Montenegro, the Delta City Mall. As a result of the project, 50 families received donations.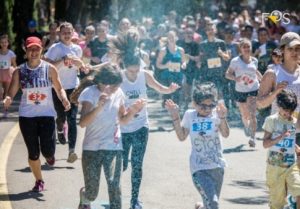 MONTENEGRO: (GYSD 2018) "Run for Fun" by Neda Bulatovic '17
On April 22, City Representatives Neda Bulatovic '17 and Ivana Buric '17 implemented the first color run in Montenegro "Run for Fun" in Podgorica. The goal of this project was to promote healthy lifestyles. Over 260 people participated in the race between ages 5-65. The event raised 260 euros for the Red Cross Montenegro Children Fund and 134 euros for the treatment of a baby with cerebral palsy.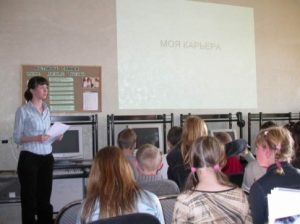 RUSSIA: (GYSD 2006) "Career Day for At-Risk Youth" by Natalya Martikainen '98
On May 16, Natalya Martikainen '98 led a group of FLEX Alumni to implement the project "Career Day for At-Risk Youth" at the Nikolsky Orphanage in Leningradskaya Oblast.  With American Councils funding, students at the orphanage were brought to St. Petersburg to tour various companies to give them an idea of available job opportunities for when they graduated from high school and needed to leave their current living situation.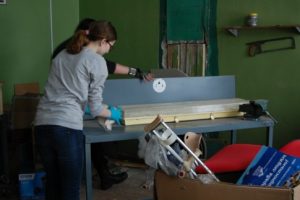 RUSSIA: (GYSD 2012) "Everybody is Special" by Anastasia Steshina '11
Anastasia Steshina '11, a City Representative in Nizhny Novgorod, Russia teamed up with four active alumni to renovate the facility of the Invatour NGO, an organization that works with people with disabilities to provide them with opportunities and teach them about their rights. The volunteers painted the walls of the facility and planted flowers outside.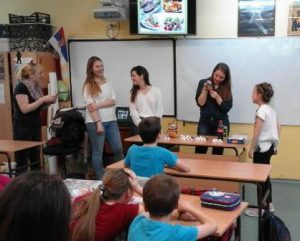 SERBIA: (GYSD 2017 – GYSD 2018) "Good Health Results in a Smile" by Kostic Milica '13
On May 26-27, 4th-grade students at Sonja Marinkovic Elementary School attended sessions on maintaining a healthy lifestyle. Milica Kostic '13 and nutritionist Milena Stojanovic shared information about healthy food and nutritional needs.  Maja Brkljac '13 also presented, focusing on sugar and its harmful effects on a person's diet.  Following the presentations, FLEX alumni volunteers spoke about the importance of physical activity and then played American football and basketball with the children.  School teacher Olga Brdar noted, "The kids were fascinated by the workshop; almost all of them brought a healthy snack to school the next day. The teachers were amazed too with the presentation skills of the alumni and the influence they had on the kids!"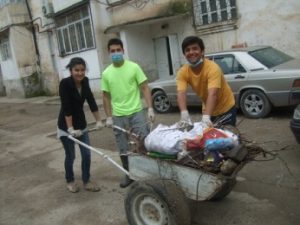 TAJIKISTAN: (GYSD 2015) "A summer without Mosquitoes" by Gulchin Ashur '14
A summer without mosquitoes may sound like a welcomed break from an annoyance, but really it is much more than that for the residents of Kulob, Tajikistan.  In the southern districts of the country where malaria is a prevalent disease, a FLEX alumnus and local residents worked together with the Kulob government cleaning department to prepare buildings close to a local hospital for the onset of summer and the onset of mosquito breeding season. Volunteers cleaned the entrances of apartment buildings, pumped the water from basements (breeding grounds for mosquitoes that carry malaria), and sprayed for other carrying insects. More information can be found here: http://goo.gl/1hSz7I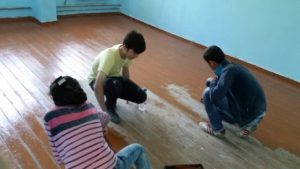 TAJIKISTAN: (GYSD 2016) "Repairing an Orphanage" by Gulnamo Vatanbekova  '15
From April 16 to May 1, Gulnamo Vatanbekova '15 and Ruhina Khudodod '15 organized a group of 15 volunteers, including three FLEX alumni, to renovate a room in an orphanage in Hisor for children with disabilities. The Hisor orphanage has 700 residents and the money for the project was raised during last year's New Year party. 'The room was in a bad condition and served as a storage area, but now it will be used as a sewing room for girls,' says Gulnamo. After the renovation was finished, the FLEX alumni met the orphanage residents, told them about the values of community service and played outdoor games together.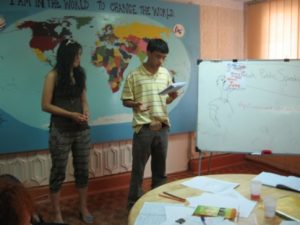 TURKMENISTAN: (GYSD 2007) "Public Speaking Training of Trainers" by Lyubov Lakomova '06
Educating the public and mobilizing youth to meet the needs of their communities are two of the goals of Global Youth Service Day, which Lyubov Lakomova and Peace Corps volunteer Chris Schirm considered when creating the Public Speaking Training of Trainers.  On April 21-22, organizers conducted a seminar to train nine FLEX alumni with the hopes that alumni will implement and conduct public speaking classes and workshops throughout Turkmenistan.  Participants learned how to give different types of speeches, to effectively use body language during public speaking, and to create attractive and engaging PowerPoint presentations.  They had opportunities throughout the seminars to practice making speeches and to evaluate themselves and their peers.  Following the seminar, alumni visited the historical sites of Mary, Turkmenistan. Participating alumni from Dashoguz, Turkmenabat, Murgab, and Mary already have plans in the making to create workshops and seminars at local schools, resource centers, and American Corners.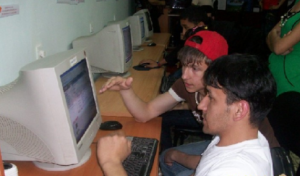 TURKMENISTAN (GYSD 2010) "Yes We Can!" By Ali Hamrayev  '09
Ten American Corner volunteers teamed up with alumni Madina Alieva '06, Kachara Beshimova '09, and Lachyn Italmazova '09 to organize the "Yes We Can" Project to involve youth with disabilities in events at the Corner. On April 23-26, 15 youth with disabilities took part in a series of trainings on leadership, public speaking, and computer skills.  Additionally, alumni held trainings on Internet usage and helped the participants create email accounts.  The presentations involved a great number of practical and hands-on activities to ensure the participants' understanding and increase their interest. The youth took part in activities where they wrote emails to pen pals, learned about their peers during icebreakers, and put into practice leadership and teamwork skills.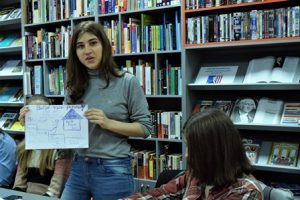 UKRAINE: (GYSD 2017) "2017 Youth Career Fair" by Eduarda Fedyukova '16
Fifty-seven community members attended a two-day career fair and professional skills seminar that including 12 professional skills sessions, such as trainings on interview skills, CV writing, and media literacy.  Teams of trainers also held sessions introducing participants to different career fields.  Sandy Bowman, project organizer Eduarda's host mother, shared information about chiropractic care in the U.S., a rare profession in Ukraine. Sandy and Eduarda created a video to show participants what chiropractic care looks like.  After watching the video at the Mykolaiv Window on America Center, participants asked Sandy questions over Skype about her profession.  Participants left the workshop feeling confident about the skills needed to take part in job interviews and many shared with project organizers that they sent their resumes to the leading companies in Mykolayiv after the event.  Participant Julia noted, "Before attending the 2017 Youth Career Fair, I did not know where to start with my search for a part-time job.  I felt overwhelmed by the concepts I found on the Internet. The event gave me new knowledge about areas in which I can develop and skills that will be valuable during the interview process."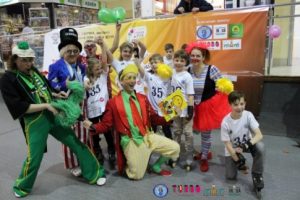 UKRAINE: (GYSD 2018) "Super Roller Starts 2018" by Illya Udovychenko '14
On April 25, FLEX alumnus Illya Udovychenko '14 organized a contest "Super Roller Star Kyiv" at the shopping mall "Karavan" for 120 children from orphanages in the Kyiv region. The contest included the rolling games, other sports activities and master classes conducted under the control of experts and volunteers. The winners of the contest received special prizes in different nominations. The project mobilized disadvantaged youth to participate in sports activities and 40 young activists to volunteer and organize similar activities in the future.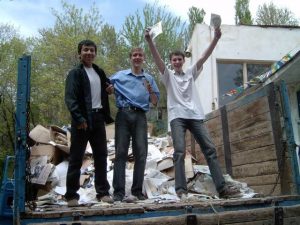 UZBEKISTAN: (GYSD 2005) "Paper Recycling Drive" by Shehroz Narzikulov '00
On April 14 and 15, an estimated 6,500 school students at six Tashkent schools collected over 2,000 kilograms of recyclable paper, for which they received $200 to purchase medical equipment for the Children's Department of the Tashkent Oncological Center. The students, introduced to the idea of volunteerism and community service by FLEX alumni, were motivated by the Global Youth Service Day mission.