This March, the FLEX Alumni community of South Kazakhstan organized a Powderpuff football game in Almaty in honor of International Women's Day. 'Powderpuff' is a spin off American football in which men and women reverse typical roles; women serve as the players and men as the cheerleaders.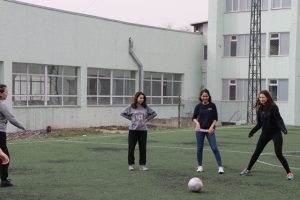 "During my exchange year I participated in a Powderpuff football game at my high school. I never thought I would be able to play a football, since it's a typically men's sport. But when I tried, I experienced so many emotions and understood why men get so excited while playing. That is why I decided to organize an event that could give girls an opportunity to experience new emotions and try things that are claimed to not be appropriate for women," says Alumni Coordinator Bibinur Zhamaliddenova '15 (Aktau, Kazakhstan/ Madison, OH).
To continue with the trend of promoting female participation in stereotypically male-dominated sports, the alumni decided to also organize a soccer tournament, which is more popular in Kazakhstan than American football. Regardless, girls in Kazakhstan typically do not play soccer either. Ten FLEX Alumnae were given the opportunity to attend a soccer workshop led by Maxim Mizitov '16 (Shymkent, Kazakhstan Fort Wayne, IN).
Both teams had their own FLEX alumni coaches to support them throughout the game. The teams both played very defensively, thus neither team was able to score, so the game was decided in penalty kicks.
Winners received medals and water bottles, and not to mention the joy of discovering hidden athletic abilities and new experiences! All the participants gathered for a celebratory dinner after the successful tournament.
Written by Bibinur Zhamaliddenova '15