Article by City Representative in Lviv, Ukraine Nastasiya Kovalenko '16
"It's the most wonderful time of the year!" – I bet all of us know this amazing Christmas song.  I have memories of driving with my host family, looking out the window at mystical snowflakes covering the ground.  I will never celebrate another Christmas without this song.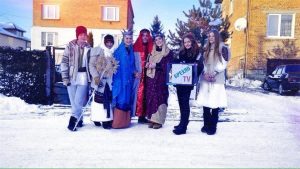 The winter holidays are a special time for all of us, but, it seems to me, especially for Ukrainians. We have so many traditions connected with this holiday: when the first star appears in the sky the whole family gathers together at one table, the head of the household says the prayer, and after that family can start their dinner- consisting of twelve dishes. One of the oldest and most beautiful traditions is Vertep: Ukrainian children and youth gather together, learn different carols, dress up like different characters from the Christmas story in the Bible, and go from house to house caroling and bring the good news from the Christian holiday to each home!
This tradition is passed along from generation to generation, and this year FLEX alumni and active youth from Lviv, Ukraine took some inspiration from Vertep to organize a holiday celebration.  Alumni took some of their favorite American Christmas carols that they learned in the U.S., and translated them into Ukrainian.  Next they switched out some traditional American symbols for the traditional Vertep costumes.
After two weeks of re-learning the carols in Ukrainian, rehearing through the seasonal wind and snow, the group of eight alumni were ready to go caroling!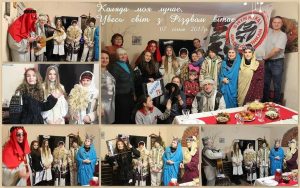 "I even liked the rehearsals.  I knew that each time I went something new and amazing would happen! It was the best part of my winter break and every rehearsal made my day so much better," shared Olha Prots '16.  Everyone had so much fun making the costumes, putting on makeup, and getting ready for the event.
Even with temperatures in the -20s Celsius, alumni and volunteers met on January 7 for the main event!  Everyone touched by the performances said that have never seen anything so great and that they couldn't wait until the next year to see them again.
"This is what everyone really needed during this difficult time. It's was so important to us all to bring the holiday spirit to our neighbors! Everything worked out awesome!" noted one of the volunteers. FLEX alumni and their friends were very happy to bring so much joy and love to the homes they visited.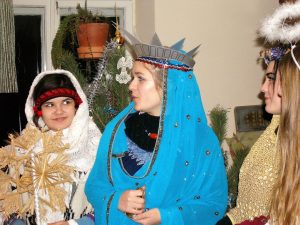 "This event really united all of us as a team. Our FLEX alumni community definitely became much stronger and friendly after we spent so many hours together.  It was a great opportunity to connect traditions and cultures.  We were reminded that it doesn't matter that we celebrate Christmas on a different day or that the carols are not at all similar – it was important to us to bringing joy to those we touched.  Singing American carols was also really neat – people were happy to hear something new and unusual.  They liked it!" says the organizer of the event Nastasiya Kovalenko '16.
During the event, alumni collected money for a local children's shelter. Alumni keep spreading warmness and happiness this holiday season.