Project Organizer: Maja Brkljac '13 Event Location: Belgrade, Serbia $50 in FLEX Alumni GYSD Matching Grant Funding $86 cost share from: Inclusive Center 'Evo Ruka'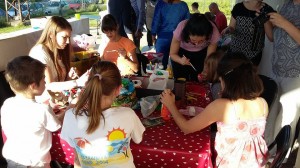 Maja Brkljac '13 organized the project 'One Step Closer to Successful Inclusion' after watching a TV programe about the organization 'Evo Ruka,' which promotes inclusion of children with disabilities. The FLEX alumna then contacted the organization and suggested conducting a creative workshop for children that attend the center's programs.
'I believe that not just individual families but the society in general will greatly benefit if children with disabilities are given the same opportunities as everyone else. Their motivation to succeed should not be neglected or kept in the dark,' says Maja.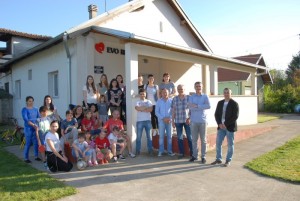 On April 16, she and Milica Kostic '13 visited the center where they made crafts and painted pictures together with 15 children and their parents and seven other volunteers. Most of the craft materials had been donated to the project through the Student Parliament.
The workshop was very popular among the children and their parents.  The FLEX alumni were invited to come again. They are now planning a regular and long-term cooperation with the center involving more volunteers. 'We will come to the center twice a month to teach children English and help the students with their homework.  We hope that the word about the project will spread and more volunteers will soon join in,' says Maja.
The project was promoted on social media.