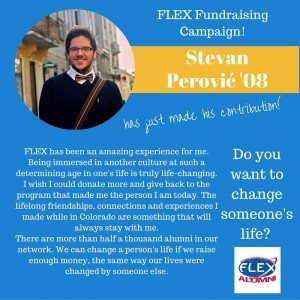 The FLEX Serbia fundraiser was a four-month-long initiative to raise proceeds to fund  one additional FLEX Serbia scholarship. This fundraiser was inspired by the accomplishments of Branko Backovic, FLEX alumnus '07, who graduated from Yale University and currently works in New York City. In 2013 and 2014, Branko succeeded in raising $27,000, which provided two more FLEX exchange students from Serbia scholarships to participate in the year-long exchange. In 2015, Branko's initiative spread to alumni in Serbia, with a Matching Grant campaign. For each dollar raised in Serbia, American donors identified by Branko and his team committed to donating four dollars. What made the campaign even more exciting is that it required participation of 75% of alumni, either through donations of money, or donations of their time, through alumni activities and community engagement. The donors pledged an additional $6,000 if this second goal was achieved.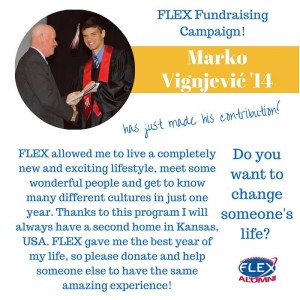 By the end of December 2015, FLEX Alumni Serbia raised over $3,000 and succeeded in obtaining 75% alumni participation. Alumni are thrilled that their efforts will will support one additional exchange student and will have a lasting impact on his or her life.  How did alumni succeed in raising such support?
Alumni donated funds both individually and through their projects. The first fundraiser organized during this campaign was a fundraiser in Branko's hometown in the south of Serbia. Marija Djigic '15 and Jelena Ristic '14 organized a rock-music party at Cafe Harmony in September 2015, with the help of a teen rock band from their school who volunteered to perform for this cause. Support also came from a local printing store, which did not charge the alumnae for promotional materials, and from a designer who created all the promotional materials free of charge. The event raised over 100$ was attended by more than 100 people, including FLEX alumni.
In November 2015, Alumni Coordinator Tara Djelic '08 organized a Thanksgiving Fundraiser at First Lady Pub in Belgrade raising another 100$. The owners of the pub provided the venue in kind and donated funds!  More than 30 alumni attended this event, including alumni from Montenegro.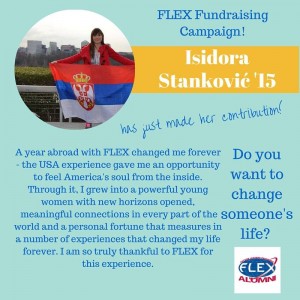 In the meantime, alumni contributed individually, each according to their means. Some senior alumni, who have joined the workforce, donated a part of their salaries as a tribute to the program, which played a crucial role in their development into the individuals they are today.  Andrija Anzel '14 had saved one "lucky" dollar from his exchange year, and decided to donate it for the FLEX scholarship, bringing extra meaning to his contribution. Alumni of the Fulbright, Ron Brown, and Junior Faculty Development programs contributed 10 annual membership fees from their U.S. Government Alumni Association. American Councils staff members and former host families also conributed to this unique cause.