Gunel Isakova '08
Zagatala, Azerbaijan / Newport, Oregon
Education:  BA in International Relations from Baku Slavic University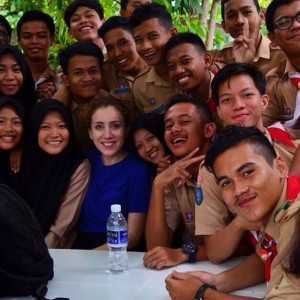 This autumn Gunel Isakova's long-standing dream finally came true – she spent two months volunteering as an English teacher on a remote island in Indonesia. Her journey to this country started long before she packed her bags and headed for the Baku airport. She first became interested in Indonesia during her FLEX year when she met Indonesian exchange students who came to the U.S. on the YES program.
'All the stories they told me about their country made me want to visit. Later my host family and I went on a cruise around the Bahamas and I met other Indonesian people who made me fall in love with their culture and language even more,' shares Gunel.
When seven years later Gunel decided to volunteer through AIESEC, a global leadership program, she knew exactly where she wanted to go. Having successfully passed the application process, in August 2015 she arrived to Tanjungpinang, the capital of Riau Islands in Indonesia. There she spent eight weeks teaching English to high school students and learning about the local culture.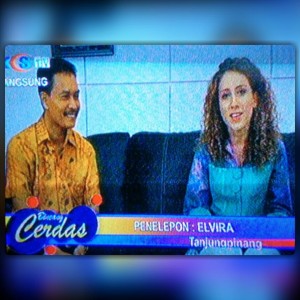 Just like in America, Gunel stayed with a host family who supported her on a daily basis and showed her around: 'My Indonesian host father was a school principal and an English teacher. He was always there to help me and answer any questions I had regarding my volunteering. Serendipitously, my U.S. FLEX host family was also nearby, as they were in Cambodia working on the issue of human trafficking."
Being the only international teacher in her high school meant that Gunel had a busy schedule.  She taught up to six classes daily focused primarily on conversational English, which she presented through interactive games and audio-visual material.  Most classes consisted of thirty to forty students; in total Gunel worked with around 350 students. Her biggest challenge was keeping track of each student and monitoring their individual progress.
'Getting to know everyone in class proved impossible and so I spent a lot of time with my students after classes. I told them about my FLEX year in the U.S. and about Azerbaijan and they shared stories about their lives and culture,' says Gunel. 'Most of them had never met a foreigner before and many felt inspired to study and travel'.
During her teaching she dedicated time to other important issues for the community, such as environmental issues, the importance of hygiene, and healthy living. There she also ran a blog and a Facebook page about nutrition and healthy lifestyle called 'Gunel's Kitchen'.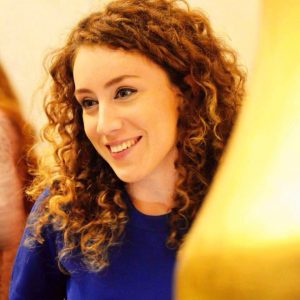 Teaching English in Indonesia was not the only volunteering program in which Gunel took part after her return from America on FLEX. In 2011-2012 she spent a year working at the Aland Islands Peace Institute (AIPI) as a European Voluntary Service (EVS) volunteer.  There, in partnership with an Azerbaijani NGO Yuva, Gunel contributed to the development of a long-term project called Open Doors. The project promotes gender equality in Azerbaijan by providing educational opportunities to young women from suburban areas.
Gunel was responsible for coordinating communication with the Azerbaijani partners, translating materials, writing articles, and conducting trainings. The main result of her work at the AIPI was the opening of the Open Doors Youth Center in a suburban area of Baku in May 2012.  The center is now a well-functioning community hub where young women from nearby areas can join Girl Groups led by specially trained leaders, improve their IT skills, and learn languages. Gunel is confident that the work of the center played an important role in the personal and professional development of many young women.
After her EVS year was finished, Gunel was offered an additional one-month contract to conduct a peace building initiative called Voices for Peace. The goal of the project was to bring musicians from Armenia, Azerbaijan, and the Aland Islands together to put on a joint concert for the Islands of Peace Festival.
'Despite minor problems, all of the musicians got along very well. It was wonderful to see them playing music together and being equally enthusiastic about the event,' says Gunel. The location of the concert was not coincidental – the Aland Islands are an autonomous demilitarized Swedish-speaking region of Finland, which gained its special status through a successful peace process. Peace building and conflict resolution between Armenia and Azerbaijan are a focus of the Aland Islands Peace Institute's work.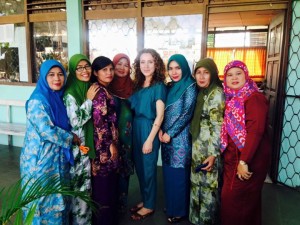 Equipped with new skills and experiences, in 2012 Gunel won a FLEX alumni grant of $2800 and conducted the Orphan Education project together with the local Azerbaijani NGO Towards Unity. For three months Gunel and FLEX alumnus Kamran Mammadzade '08 taught English and IT skills to orphan teenagers with disabilities.
Gunel believes that the values of multiculturalism and volunteering that she adopted during her FLEX year influenced her career greatly: 'My multicultural experiences made me convinced of the importance of peace building work in our region. My dream project is to set up a foundation, which will give young people from Azerbaijan an opportunity to travel and which will promote global healthy living in a conflict-free society'.
'FLEX has made an enormous difference in our lives and we should not forget that. Our planet is small and we are all connected to each other. Let's conduct joint initiatives and contribute to the development of our global society,' Gunel addresses FLEX alumni.
Article written by Tatyana Movshevich