Azatbek Ismailov '14 (Osh, Kyrgyzstan) Event Location: Bishkek, Kyrgyzstan $200 in FLEX Alumni GYSD Grant Funding $235 cost share from partners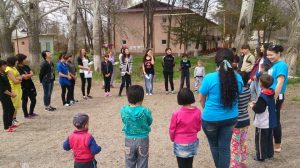 On April 18, six FLEX alumni organized the Health Matters project, which aimed to teach 90 children in two orphanages about the importance of healthy lifestyle, hygiene, and physical exercise in a creative way. It was implemented with the support of American Councils for International Education and the American University of Central Asia (AUCA).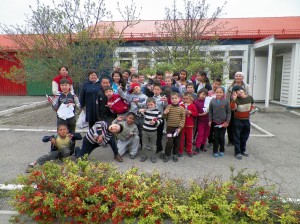 Alumni prepared an interactive presentation on the topic of hygiene and followed it up with fun activities. During one activity, alumni mixed hand sanitizer with glitter.  The glitter highlighted how fast bacteria can spread by simple handshakes.  Children were also asked to separate harmful hygiene habits on the list from healthy ones and point out daily tools for maintaining personal hygiene. At the end of the day FLEX alumni distributed toothpaste and toothbrushes.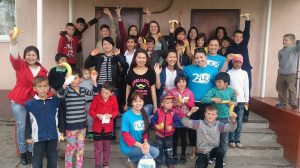 Another team of alumni focused on healthy eating and sport by organizing a group competition for the healthiest salad from the vegetables that they'd brought. The winning teams were given prizes provided by AUCA.
The GYSD project inspired both children and FLEX alumni.  The children are focusing more on their healthy habits and alumni are planning more activities to teach and inspire these youth.