'Do not go away with your head and heart, but think of how you can contribute to your country's development. You can still be useful even if you live abroad. If we unite our efforts, the results will be much more impressive,' Valeria Svart-Gröger shares her message with the FLEX community.
Valeria Svart-Gröger '07
Chisinau, Moldova / Manchenster, NH
Education: Bachelor of Science in Geoecology, Master of Science in Integrated Natural Resource Management
Profile written by Tatyana Movshevich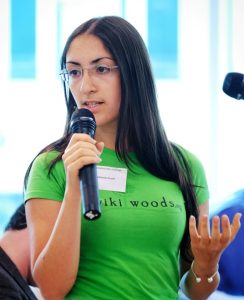 At the moment she lives between two countries – Germany where she is finishing a Master's degree and her native Moldova where she serves as president of an ecological organization EcoVisio. Valeria's areas of focus are environmental education, capacity building, and community empowerment. Together with a group of activists and young volunteers, Valeria implements ecological and sustainability projects, the largest of which is the activEco Program, which is administered in cooperation with the Theodor Heuss Kolleg Program of the Robert Bosch Foundation and MitOst Association for over 2 years.  In the course of the activEco Program young activists attend capacity-building trainings and seminars where they learn about existing environmental problems and develop skills to hold their own activities in the future.
'We ask ourselves, where do we want to see Moldova in 10 years in terms of sustainable development?' and everything we do is guided by the image we create. At activEco each activist thinks about a specific issue, which she or he would like to work on – such as recycling, lack of biking infrastructure, or children's ecological education, and then the activist develops a project. Once the initiatives emerge, activists form teams and we work with them to bring in field experts that help them take their projects to the next level,' Valeria explains.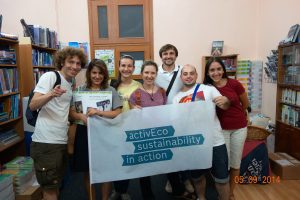 For example, this year one participant team decided to take a closer look at public spaces in Chisinau through a project they called, Urban Grass.  The project aimed to inspire grassroots organizations to embrace an environmentally healthy lifestyle. Using an abandoned square in front of a theater, organizers revived it with the help of local artists and volunteers. In the end, the unused space was turned into the location for an NGO fair where young people promoted their community activities with the support of local entrepreneurs. 'This initiative reached a lot of people in the city. Now that the square is renovated, community members come to visit it and relax there!  They often ask us when they can get involved in the next similar action. If people realize that the environmental entrepreneurship and lifestyle are not just a niche, but something accessible to everyone, they will be more likely to join us. Empowering people is only possible in the atmosphere of mutual appreciation and fun,' Valeria says.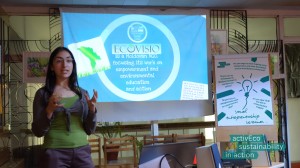 'Friendraising' is a crucial part of any project implementation. During EcoVisio seminars Valeria and her team teach participants how to build networks in order to gather people with different skills and make the biggest impact possible. They work closely with Eco-Village Moldova, a network and community of diverse people that try to live based on principles of energy saving, organic agriculture and sustainability. The Eco-Village Moldova initiative was started by former Peace Corps volunteer David Jesse, who is now the director of American Councils in Moldova, and his wife Liliana Botnaru, a prominent activist.
Even though Valeria had already been involved in environmental work before her FLEX year, she received a lot of substantial ecological knowledge while she was studying in the U.S. 'In America I saw great ecological awareness and activism and at the same time extreme examples of consumerism. All these experiences influenced the way I live now,' she says.  Upon her arrival back to Moldova she implemented a Global Youth Service Day project focusing on the ecological movie 'An Inconvenient Truth,' by director Davis Guggenheim, which features the work of former Vice President Al Gore around the subject of global warming.  Valeria translated the documentary into Romanian and Russian and showed it in local schools and universities to increase awareness about the dangers of global warming.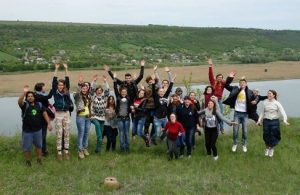 In 2013 and 2014 together with other FLEX alumni Valeria won two consecutive FLEX alumni grants which supported the activEco program seminars. The first was dedicated to the topic of sustainable development, while the second aimed at raising awareness about social entrepreneurship in Moldova. Youth participants from across the country worked on projects ranging from lobbying for a change in the tax law for startups in Moldova and an ecotourism initiative.
As one might expect, Valeria is leading a sustainable lifestyle herself: 'Trying to walk with a lighter footprint is the first step that comes before recycling. It's shocking to see how much wrapping is used for every item. I usually choose products that don't have a lot of packaging or that can be put in my own Tupperware'. Buying seasonal products and sustainable or secondhand clothes are the other practices which Valeria has adopted, however mobility remains the hardest step (no pun intended!) to implement: 'While riding a bike in Chisinau can be tricky and even dangerous, not flying is the hardest thing of all. Most of the time I take a bus or a train between Germany and Moldova, but there are times when it's impossible to abstain from taking a plane'.  When she's in Germany, Valeria and her husband are involved in the Transition Town, a community sustainability program. 'This project is primarily about getting to know your neighbors and sharing tips with them.  I believe that the change on the neighborhood level is something that really stays,' Valeria says.