Sevinj Huseynova Mazahir '11
Khachmaz, Azerbaijan/Klamath Falls, OR
Education:  Baku Eurasian University, Bachelor degree in Languages
Profile edited by Tatyana Movshevich
FLEX Lessons: FLEX is everything to me. It changed my life from its roots, made me realize how strong I am and how I can make a difference, if I really want it to happen. FLEX taught me how to be independent and make the right decisions. It prepared me for real life and gave me so much that cannot count all the pluses. In one sentence –  I love FLEX!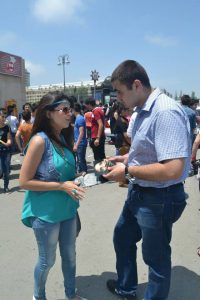 FLEX Values: I miss everything about my FLEX year – how my host dad was trying to surprise me by saying phrases in Azerbaijani; my host mom's food, our trips to the grocery store, and our conversations; my sisters' and friends' surprised faces when I was talking about my country, its traditions and life; my American school, my tennis team, and trying new things daily. I would give anything to bring my exchange year back. I really miss the U.S. and everything related to it.
Current Project: One of the major global problems of our day is human trafficking.  According to various statistics, 20 million people around the world each year become victims of human trafficking, 14 million of them are also victims of domestic violence.  This shows a clear link between violence and the likelihood that someone will fall prey to human trafficking. When we say human trafficking, the first thing that comes to our mind is selling women into immoral housing. In reality the problem is much broader and also includes young men and children. Sadly, these people are not only bought and sold internationally, but they are exposed to sexual exploitation, forced labor, and even organ sales. I organized a project aimed at educating the people of Azerbaijan, especially its youth, to protect them and those they love from becoming victims of human trafficking. It started as a FLEX alumni grant project and was organised in 3 regions (Sheki, Tovuz and Khachmaz). Since it attracted a lot of interest from NGOs and local people, we decided to continue the project and received additional funding from the U.S. Embassy in Azerbaijan. It allowed us to conduct educational training sessions at NGOs and public schools in 5 more regions in July-September 2013. The target audience were people between the age of 14-55, as the highest percentage of victims falls within this age category.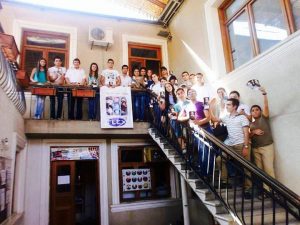 Project Highlights: We conducted surveys before and after the educational sessions, and shared our presentations and brochures with participants and organizations. We were happy to hear that as a result of this project there were clubs open in Ganja, Lankaran, and Sheki with an aim to inform the community about human trafficking. Apart from that, we also organized education sessions for school teachers and representatives of Khachmaz Orphanage and the Center for Children with Disabilities at the Khachmaz Human Rights Monitoring Center. All of them were given presentation brochures to lead similar sessions in their local community. Through our project over 160 people were trained and 500 were informed about the issue.  As a direct result of the project various organizations conducted projects in cooperation with the U.S. Embassy, the Clean World Public Union, and the Children Union. In every region we were also supported by local partners – Bridge to the Future and Intelligent Citizen in Ganja, Ecotourism Organization in Lankaran, Women's Club in Sheki, public school #1 in Siyazan, public school named after A.Pushkin in Tovuz and North News and Human Rights Monitoring Center in Khachmaz. In Kurdemir, Lankaran, Baku and Khachmaz we also cooperated with local American Centers.
Current Concerns:  The greatest issue impacting my community is the apathy of youth. Most young people are spending their time uselessly, not involved in the social life of their country and not interested in being part of the solution to the problems of their community. Without professional organizations and socially active people who work towards solving issues we will continue having problems in our regions.
Message to FLEX students who currently study in the U.S.: Do not miss an opportunity to try new things daily.  Never say that you cannot do your best, because it is your first and last chance to be in the U.S. as a FLEX exchange student. Appreciate every single minute of your life, be strong and never give up.
Current Reading:  I am reading the novel Ali and Nino by Kurban Said.  It is a love story between an Azerbaijani boy and a Georgian girl. I like reading mostly romantic, historical, or psychological books.