Full Name: Nazrin Agharzayeva '13
Shabran, Azerbaijan/ Green Mountain Falls, Colorado
Education:  "Qafqaz" University , IT and Systems Engineering
Profile written by Tatyana Movshevich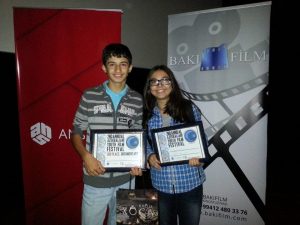 FLEX Importance: One of the things I'm most proud of in my life is being a FLEX alumna. The FLEX program changed my entire life. I grew up in a small town in one of the regions of Azerbaijan where nobody knows much about America. I was the only FLEX finalist from that region. It was great, but challenging at the same time – when I returned home a lot of people around me found it difficult to relate to my experience and at the beginning I had to develop projects completely on my own. Having had my FLEX experience I felt strong, independent, and capable of solving problems.
FLEX Lessons: Before going to America I wasn't very self-confident and I had difficulty establishing my goals and finding my path. During my exchange year I felt inspired and became really interested in different forms of art.  I've always had a wide range of interests – from IT to fashion, from cinema to illustrations. The exchange helped me to focus on my goals.
Another important thing that I learned in America is accepting people the way they are without trying to change their opinions, unless of course, they are intolerant.  In the U.S. I became more self-confident and learned how to express not only my leadership, but also other various skills and abilities.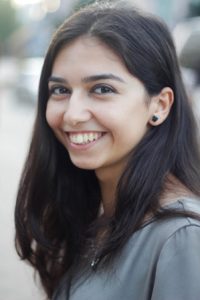 FLEX Values: Every student has some adjustment issues when he or she arrives back home. When I returned to Azerbaijan after my exchange year, I felt that I could not continue with my old life – I had to do something new and volunteer. So I took part in a summer leadership camp called 'Our World,' which was organized by FLEX alumni Sabina Kurgunayeva '12. I was a counselor there and together with other FLEX alumni we taught classes on various subjects to a group of teenagers. The goal of this camp was to develop our students' personal skills and give them some perspectives on various world issues. After the camp we found out that our students had formed a group which was called 'Charitable Juniors' and organized a lot of volunteer projects.
Current Work: Even though my major at university is IT, my main interest lies in art.  I just completed my first year of university exams and I have the whole summer ahead of me and I plan on making a film to submit to the Peace Corps Azerbaijani Youth/Student Film Festival. In the past I entered the festival with my movie 'Azerbaijani Women in History' and won the Best Audio Editing Award.  At the moment I'm working on the idea for the film, and am finding inspiration primarily from the people and art around me, especially music. Sometimes while listening to music, I start imagining a video I'd shoot for it.
Current Highlights: I have recently started my own Instagram page of illustrations and a fashion blog (http://navistyles.com/). It has already received more than 1000 views and my work is being ordered on the Internet.  My blogging is cutting-edge work for Azerbaijan. As for my illustrations, I'm drawing them using a method called zentangle, which I learned about during my FLEX year.  It is modern and abstract and I've been drawing in that style since. In some ways it is not just art but also a form of therapy, because I usually feel more relaxed while drawing.
Past Highlights: The first small film festival in which I ever participated took place in one of the regions of my country. At that time I had a pen pal who lived there who I had never met before. Just like me she was interested in Asian art. When she heard about this film festival, she suggested making a film about our friendship and how we had found each other on the Internet through a shared interest – Korean art.  That's how I came up with the idea for my first film.  After that I made the movie 'Azerbaijani Women in History,' which won in the Transkaukazja International Film Festival and the Annual Youth Festival.
I also made a movie while in the U.S. with 10 exchange students in my American school.  We shared our experiences as well as the experiences of their teachers and classmates who came in contact with us.  I didn't have any plans to enter a film competition with it then – I just wanted to do something cool and exciting before I left.
Future Highlights: My dream is to establish my own clothing line. At the moment I'm trying to combine different forms of art together and to develop them for my clothing line.  I am working on developing my social media skills as they will surely play a great role in it the future promotion of the brand.  Right now I'm filming a promo video for my fashion blog.
Current Concerns: One of the common problems in the regions of Azerbaijan is that parents are often overprotective of their children. It isn't a problem in the capital, but in the regions, parents sometimes don't allow their children, especially girls, to be independent and experience things. I know that they mean well, but I personally believe that girls should be allowed to participate in the same kind of events as boys. That's why I, together with other FLEX alumni, am trying to raise awareness about gender equality.
Message to FLEX Alumni: If you want to achieve something interesting in life, you need to always stay busy and work hard on your goals. Why did you get chosen for the FLEX program? So you could learn about American society and then share this knowledge in your country. But you should also do it tactfully and share your experiences little by little, drop by drop, taking into account other people's ways of understanding the world.
Current Reading: I'm currently reading Charlotte Bronte's novel 'Villette' in Russian. I'm also reading books about art and the history of fashion.