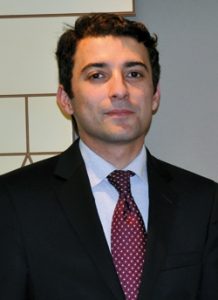 Fariz Ismailzade from Baku, Azerbaijan traveled on FLEX to Cove, Oregon in 1995-96. 
Education: BA in Political Science from Western University in Baku with one year exchange program at Wesleyan University; MA in Social Policy from Washington University in St. Louis; currently doing Executive MBA in IE Business School in Madrid
FLEX Importance: I grew up in a village near the Iranian border. The FLEX program opened the world to me. Through FLEX I had a chance to learn English, but more importantly broaden my world outlook, develop confidence in myself and make bright career plans.
Most of all I miss the excitement of travel. Since my FLEX year I have traveled 130 times to 47 countries. You can imagine why my first travel to the US was so much more exciting.
FLEX Lessons: Even though in the US you live in a host family, you still have to rely on yourself a lot, for example when it comes to doing some basic house chores, like washing clothes, doing shopping. These situations develop your leadership skills. You learn how to make decisions, how to solve problems, etc. They are further developed through school activities, such as sport games, field trips, fundraising drives and team projects.
When I came back to Azerbaijan, these skills helped me a lot. I founded the American Alumni Association (aaa.org.az) and this NGO became the largest alumni association in the country, having organized more than 60 projects since its establishment.
Current Job: I work as a Vice Rector of ADA (Azerbaijan Diplomatic Academy). I have been working there since its first days in 2006. During that period ADA grew from a small training school into a modern university. It is the most exciting project in the country and I am so blessed to be part of it.
I manage a large portfolio, from admissions to marketing and international relationships. Meeting world leaders in education, developing contacts with foreign universities and helping students and faculty are the most exciting aspects of my work
Current Highlights:  At ADA University we believe in cultivating the young generation through the values of peace, tolerance and multiculturalism. At the same time memory and respect of the past is also important. We organized 'Voices for Khankendi exhibition' to help our students remember the tragedy of the past and encourage them to work for the better future through peace. In 2009 I also conducted a TV discussion with two Armenian and two Azeri youth in order to try and build understanding between them. This TV discussion was later shown in our classes and used as a teaching tool.
Future Achievements:  I am proud to be the youngest vice rector in the country and I am thankful to my rector, Ambassador Pashayev for giving me this chance. It is a true blessing to work with him. In the future I plan to continue working in public sector helping my country develop further and be known around the world. After all, I consider myself "a child of independence."
Current Concerns: I really worry about basic problems in our society, such as people's ability to queue, not drop litter on the street, be willing to save trees and paper. I also worry about global problems, such as poverty and wars and especially death of children. We should all work on these issues together.
Message to FLEX Alumni: We should find ways to connect better. Together we are power. Alumni Associations are the best way to do that.
Profile edited by Tatyana Movshevich '04