Olympic cheers to you, my fellow FLEXers!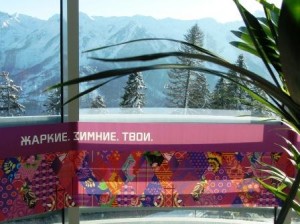 Games in Sochi are at the full blast, so it's high time to share with you my amazing volunteer experience! I bet you've tried volunteering before, and so did I, but volunteering for Sochi Olympics is just something very exciting and one of a kind.
"Please, fasten your seat belts. The plane is about to land" – you get to hear that every time you fly, but this time, when we approached Sochi, passengers just won't obey and lean over to look at the plane window and stare with astonishment at lambent lights of Olympic Park – Ice Palace Iceberg, Adler Arena, Fisht Stadium, where the Opening Ceremony was to be held, and Bolshoy, which would soon welcome hockey fans and spectators, see the battle of Russia vs. USA and other great teams, saying farewell to ones and shed tears of happiness with others.
People say that Sochi has undergone complete and unprecedented transformations since 2007: new roads, attractions, infrastructure, railway stations, airports, touristic facilities, amusement park, and Olympic venues. I would lie if I told that it is not truth – the new look of the city astonished me right from the beginning, but what struck me most is it's the atmosphere and the people who made this possible. Can you imagine that there are 25.000 volunteers, 25.000 staff and 15.000 security personnel? Every single one is a part of the system aimed at making these Games unforgettable and Hot. Cool. Yours.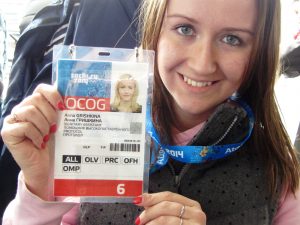 My function here is the dignitary assistant. Let me explain what that means: I am attached to the Minister of Sports of a foreign country: every volunteer of our function gets a Minister in accordance with their preferences and language skills. Our responsibility is to accompany the assigned person throughout the day, manage his schedule, work as a translator and a problem-solver, provide transport service and be a Sochi sights and restaurants guide, picture taker, entertainer. In a nutshell, do everything at once to make his staying joyful. My Minister of Sports was from Andorra. Even though he stayed in Sochi for only 5 days, I couldn't wish for more since every day felt like it was never going to end. Spending 17-20 working hours with my Minister, his team and fellow volunteers was truly a blast. We exchanged gifts, visited various competitions, had a tour through the Olympic park, saw the Opening Ceremony, dined in a finest Sochi restaurant and broke dozens of traffic and speed rules on Sochi highways. I have to admit that I'm really grateful to have been assigned such an interesting, open and easy going person, who also taught me Catalan, which was Andorra's most popular language, as it turned out. Apart from being the Minister's assistant, I was assigned various other tasks like helping and guiding new coming volunteers, organizing Mr. Mutko (Russian Minister of Sports) reception, and helping protocol volunteers at the venue. exch
During my work not only did I meet other delegations and ministers, but I also became a part of a team of volunteers and organizers, who worked in a close connection. My story would be incomplete did I not mention how volunteers spend their days-off. Among top leisure activities are visiting competitions, Sochi sightseeing, travelling to Abkhasia or Mazesta. What I enjoyed most was romantic evening promenades along the sea coast under the palm trees and exquisite Caucasian cuisine.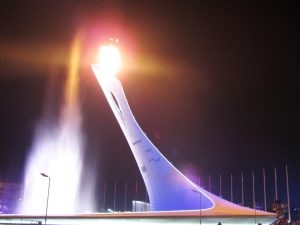 However disappointing it is, the Games are coming to an end.  Many more new projects lie ahead, and the major one – Paralympic Games, which will gather the strongest athletes, new volunteers and new lifetime experiences. However, our victories will always be there as we all won Olympics together. They motivated athletes to achieve more; they united the whole country as creators and the whole world as participants by taking part in it, sharing it, living through it and shaping the present moment which will stay in your hearts forever and motivate us to make even greater Games in years to come – Hot. Cool. Yours.
Anna Grishkina, FLEX Alumna 2009-2010. Saint-Petersburg