Hi dear FLEXers!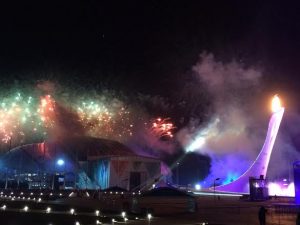 It's Olympics time. It turned out that quite a few FLEX alumni volunteer in Sochi. So we wanted to start kind of FLEX Olympic Diary. Here is a small contribution from me.
When the Olympic Games in Vancouver took place, I was on my FLEX exchange year. As a part of Olympic closing ceremony there was a presentation of Sochi Olympic Games. And while seating on the couch and watching the beautiful show on TV in the house on the wonderful farm in Iowa, I was so proud of my country for doing such a big event. I wanted to be a part of it. I always liked sports, but as far as I don't do it professionally, I couldn't make it to the Olympic Games. But I've found another way to contribute: I've become a volunteer.
There are 25 000 thousands people volunteering in Sochi. Each of them has gone through the tough application and training process. There were 26 centers all across Russia preparing volunteers. It's actually hard to imagine how the Games would look like without volunteers, because we are everywhere around Sochi. I'm  working at the Olympic Hospitality Center, where Olympic Committees of Kazakhstan, Norway, Italy and Host centers of sponsors Sberbank, Megafon and Jet Set Sports are situated. My position is called Assistant of Marketing Partners. We help with organizing events, meeting and escorting guests. The Olympic Hospitality Center is a part the Olympic Park. Olympic Park is an area where the stadiums of a costal cluster are located. Every day here is actually amazing. There are always concerts, shows and festivals going on, as well as award ceremonies of those who became champions in Sochi. And we have a chance to witness it! The volunteer's uniform is quite colorful, so they can't get lost in the crowd, you can always find a volunteer and ask any question. I like to answer such questions. The fact that I know where smth is situated, makes me feel like Olympic Park is my home, so I actually have to know where everything is supposed to be.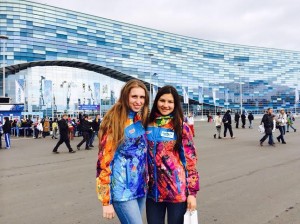 We work a lot, but than we also get some bonuses for what we do. The best ones are tickets to the competitions. Many of us got a chance to see main rehearsals of the opening ceremony or the actual ceremony itself.  I've already seen men and ladies hockey, snowboard, freestyle and figure skating. It is absolutely incredible. When you  the world around just stops for a while. You're witnessing how best athlets of the world compete for the title of the absolute champion. There is no doubt that it's worth seeing. It's a moment of perfection.
Another great thing that Olympics provide us is meeting people. It brought together people from different parts of Russia and other countries. I'm involved in volunteering at sport events for several years, so I have quite a lot of friends among volunteers, whom I was happy to see here. Also here by chance I've met Dina Salieva'10, with whom we participated in PDO almost 5 years ago. I've also met one of my CRs – Yuliya Kuzmicheva'13.
Sochi is an absolutely unique place. It takes one hour to come down from the cold and snowy mountains to the warm and shiny costal area. For most of Russian cities February is the coldest month of the year, and here it's +15 °C. I've heard people calling it "Russian Miami". But it's not only weather that makes Sochi a unique place now. It's the amount of people from all over the world that is here. And we all are united by the atmosphere of these XXII Olympic Games 2014.
Kristina Lyakhova, FLEX alumna of 2010.