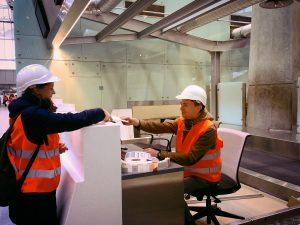 After weeks of careful collaboration with Viktoriya Balko '10, Kelly Services staffing agency recruiter, and representatives of Northern Capital Gateway Pulkovo Airport Operations Company, 11 FLEX alumni and three American Councils staff members were cleared to participate in operational trials of the new centralized terminal, opening on December 4. The trials, designed and executed by Operational Readiness and Airport Transfer Department, aimed to test the newly built terminal, its systems and services to ensure that the airport is comfortable and easy to navigate.
FLEX Coordinator Irina Belova '03 explained, ""It is important to first put through a trial something as big and as significant for millions of people as an airport. We all fly and know how one minor failure such as lost luggage can ruin not only the day, but the whole sequence of trips ahead. And of course not only luggage but also safety lies on the shoulders of those who operate the airport."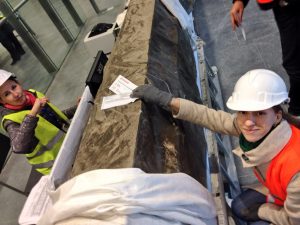 In total, alumni and staff volunteered at Pulkovo on three different days (October 22, October 29, and November 14), with one testing day involving a fire drill and evacuation.
Donning reflective orange safety vests and construction helmets, volunteers received simulated flight tickets, suitcases and at times even excess baggage items such as telescopes, baby carriages, and live animals. From that moment on, their main task was to complete all basic airport procedures including security inspection, check-in, pre-flight inspection and boarding. Some of the participants also received cards with a special mission to play unaccompanied minors throughout the testing, while others had to pretend to be lost in the immense terminal, to try using an expired visa, or to change their mind and reject boarding at the last moment possible.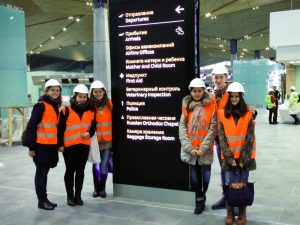 At the conclusion of each day, alumni and staff filled out questionnaires to address the shortcomings they had noticed while testing the new facility.  They were presented with small gifts and certificates as a token of appreciation for their time and effort. As a result of this extensive volunteering campaign, FLEX alumni succeeded in helping airport staff identify inadequate or missing signage and improve the airport's accessibility.
Anastasiya Zhdanova '09 told American Councils, "It was a great experience because we had this unique opportunity to be among the first people to see the new terminal, test it, and help Pulkovo improve it while having a great time with friends."
Written by Northwest Russia FLEX Alumni Coordinator Andrey Bayev '11