American Football for Russian High Schools
Yegor Fedorov '11 (St. Petersburg, Russia)
Event Location:  St. Petersburg, Russia
$700 in FLEX Alumni Grant Program Funding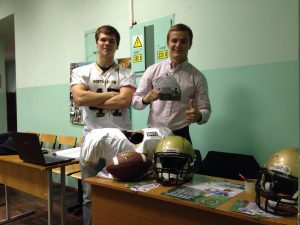 Summary:  FLEX alumni collaborated with the American football junior varsity team to promote American football among youth in the city.  Organizers promoted the opportunity among young people from orphanages and local high schools and held sessions for those interested on the game, to practice, and to attend local professional league games.  Throughout September participants took part in group football practices and training events.  The opportunity was also promoted during FLEX testing in St. Petersburg.
Currently, the organizing group of six young men, three of which are FLEX alumni, continue to hold weekly practices under the auspices of the American football junior varsity team, with a final tournament organized to take place at the end of the year.  Organizers and participants continue to hold fundraising activities to buy equipment for the team and for a team from a local orphanage.
More information about this event can be found at http://vk.com/spnl_kids