Written by Matej Bednar '22 (Usti nad Orlici, Czechia / Joshua, TX)
When the war began in Ukraine, hundreds of thousands of people fled to seek shelter in other countries, including the Czech Republic. Alumnae Liliia Loboda '22 from Ukraine and Elnaz Babayeva '10 from Kazakhstan, who are currently living in the Czech Republic, stood at the forefront of all the Czech-based FLEX alumni initiatives to help the refugees receive supplies and integrate into the community.
At the beginning of March, Elnaz, a Machine Learning Researcher based in Prague, organized a food and supply drive/fundraiser for Ukrainians fleeing the country at the border. She promoted the opportunity for people to directly donate needed supplies (such as canned food, baby formula, diapers, blankets, and medical supplies) or donate money that she then put towards purchasing supplies or donating to Ukrainian NGOs.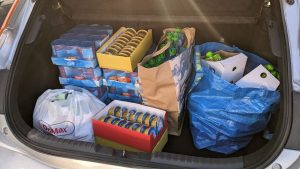 Most contributors chose to send money, raising approximately 1,400 USD in approximately one week. She donated about 40% of the funds to Ukrainian NGOs focused on helping those whose homes were destroyed by the bombing, while she used the remaining 60% to purchase roughly 350 cans of food, 40 boxes of medical supplies, 300 diapers, 30 sets of hygiene products, and more.
Her friends then drove these items to the Ukrainian border for distribution to those waiting to leave the country. "I didn't expect we would collect so much money in two or three days," Elnaz reflects. "We bought out all the available bandages in two different pharmacies, so the staff there already knew us by face!"
Following the donation drive, Elnaz picked up five eight-hour shifts at refugee centers, where she cared for children ages three to eight while their parents were busy. "Even though I enjoyed the time with the children, it was mentally overwhelming. On one hand, we played, painted, sang songs, and had fun. On the other, I also could not help but hear all the difficult conversations which normally should not happen between children. It is tough to realize what they had to go through."
Another alumna, Liliia, also did her part in supporting refugees. Liliia is an economics student who signed up to volunteer for two eight-hour shifts at the labor office in her city, Ceske Budejovice. There, she helped translate paperwork for Ukrainian refugees who needed help. "Volunteering at the labor office was mentally overwhelming," said Liliia. "However, I realized refugees and the workers at the office really needed our help, which kept me motivated."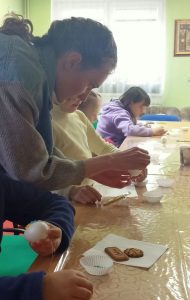 Building upon the effort to help Ukrainian children, Liliia also organized an Easter-themed workshop for children from a community center in the same city, where eight children painted Easter eggs and made other Easter decorations. Liliia reflects, "The egg decorating workshop was fun! Both the kids and the parents asked when we would do something like that again. That motivated me a lot!"
Later in May, Liliia also organized a successful hour-and-half-long, online workshop on managing mental health during a time of war. The speaker, Janina Danish, a Ukrainian psychologist with over 25 years of experience, explained how to support yourself, your family, and your friends during mentally challenging times. Seven international FLEX alumni joined live, and she posted the recording on YouTube, where more than 50 people have watched it.
Both Liliia and Elnaz chose to share their stories to motivate others to pursue what they feel like is needed in their communities now. They saw a need around them and decided to address the issue as soon as possible, shaping the details along the way. No effort is too small to matter, and even just one small idea can turn into an impactful project.